Kan. prison under stress after 75 COs test positive for COVID-19
Staffing problems, limited PPE and a lack of compliance with state directives by management has created a "perfect storm" for COs at Lansing Correctional Facility
---
By Katie Bernard
The Kansas City Star
LANSING, Kan. — More Kansas National Guard members have been sent to help at Lansing Correctional Facility, where the spreading coronavirus and staffing shortages contributed to a decision to concentrate inmates from two buildings into one.
Of 415 total prison staff, at least 75 tested positive for the new coronavirus as of Wednesday. Only 15 of them have returned to work.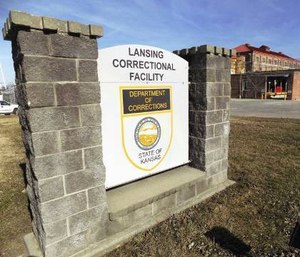 Twenty-five other staff members who have not tested positive for COVID-19 are on leave because of the virus, according to Rebecca Witte, spokeswoman for the Kansas Department of Corrections.
The staffing problems, limited access to personal protective equipment and a lack of compliance with state directives by prison management has created a "perfect storm" for corrections employees at Lansing, said Sarah LaFrenz, the president of the Kansas Organization of State Employees which represents corrections employees.
With 75 inmates testing positive for the coronavirus since March, Lansing has been the site of the biggest outbreak of COVID-19 in the Kansas prison system.
The Department of Corrections announced Wednesday that a second inmate at the Lansing prison died after testing positive for the virus.
The prison has also recently seen disturbances from inmates, and video posted to YouTube from a recent incident featured inmates complaining about a lack of access to healthcare.
The unrest in the prison and low staffing could quickly become dangerous, LaFrenz said.
"There's a potential for a dangerous situation to get worse very very quickly" when there is less staff on site, she said. "It's a danger to the staff, it's a danger to the inmates as well."
This week, officials were moving inmates at Lansing, combining the residents of two buildings into one.
Witte, the department of corrections spokeswoman, said in an email that the action was being taken now partly because the prison "would not have been able to continue staffing two buildings with the growing number of staff members who have fallen ill with the virus."
Ten members of the Kansas National Guard have been brought in to help complete the move. Four had already come to the prison to help with medical needs, according to Witte.
The building that inmates are being moved into is newer and will be easier to sanitize and have better airflow, Witte said. It means moving inmates into two and four-bed cells. In the other building, some inmates had been in single-bed cells and others were in dormitory-style rooms.
Witte said it was hard to say what it would have taken to keep both buildings open or whether it would have been an option even in ideal circumstances. "With staff already working some overtime it was really going to be a big strain," she said.
The move was originally planned for March but was delayed because of the pandemic. The newer building was used for medical isolation at the beginning of the outbreak, Witte said in an email. Inmates moving into the new building would not come into contact with those in medical isolation, she said.
Witte said 10 guards were moved to Lansing temporarily from Winfield and Wichita.
LaFrenz, the union president, said the state government is doing everything it can but the situation at Lansing creates risks for corrections officers and inmates.
"There's a huge amount of anxiety and concern," she said.
Staffing shortfall and safety
The first cases of COVID-19 in the Kansas prison system were confirmed among three staff members at the Lansing prison in late March.
Since then, dozens of staff and inmates have tested positive. Forty-nine inmates have recovered from the virus, according to Kansas Department of Corrections data.
On Monday the Kansas Department of Corrections announced that an inmate at Lansing died from the virus.
Cases among staff members or inmates have also been confirmed at the Wichita Work Release Facilty, the Topeka Correctional Facility and the Kansas Juvenile Correctional Complex.
"The pure nature of how correctional facilities work is you have people in close quarters with one another," LaFrenz said. "So for every one person testing positive you have quite a few more who are exposed immediately."
This was exacerbated, LaFrenz said, by the spread of the virus in the community and worries about risking the health and safety of family members.
In the time since the first positive cases were reported at Lansing, LaFrenz said, two corrections officers have been in intensive care units because of their symptoms and another went into kidney failure.
Due to national shortages of protective equipment, LaFrenz said, officers have relied on cloth masks when working. However, she said, the reduced staffing is making it more likely that officers will come to work despite prior exposure to the virus or symptoms.
Some officers, she said, have been told they need to come into work unless they receive a positive test for the virus. Others, she said, continued to come to work after testing negative only to test positive later.
"We are all responsible for protecting each other and if you have a group of people who aren't doing that they put everyone at risk," LaFrenz said. "(Corrections employees) are essential workers so they're bearing the brunt of this, they and their families, so they should be respected and cared for. Not pushed. Public safety depends on them being able to come into work."
Employees working despite health concerns, she said, could be due to middle management at the prison trying to ensure that the prison can hit minimal staffing.
One staff member, who is out on quarantine after his doctor told him he likely had COVID-19 despite a negative test, said he has been demeaned by management in what seems to be an attempt to convince him to come back to work.
"My captain was making me feel like a horrible person for not being at work," he said. "It feels like they're trying to single me out. What's even scarier is that I'm not being singled out and they're treating everyone this way."
The worker asked The Star not to use his name because he fears of retaliation.
Kansas Department of Corrections policy requires that any staff member who reports symptoms of COVID-19 must stay on leave until 72 hours after a fever subsides or there has been "significant improvement" in symptoms.
Staff members who come in contact with a positive case, the policy said, must wear a face mask at all times but can continue to work if they do not experience symptoms.
The job, LaFrenz said, has weighed on officers mental and emotional well being as they worry about spreading the virus within the prison and to their families.
Many officers, she said, are working voluntary overtime due to the shortfalls. That, however, may eventually become untenable if the need stretches on for weeks preventing those officers from taking time off.
Witte said the department is working keep overtime down "as much as we can," but that it is a difficult situation as more staff become ill.
"We're trying to make sure that burden is not on our staff but with the growing number of ill it's certainly a concern," Witte said.
———
©2020 The Kansas City Star (Kansas City, Mo.)
McClatchy-Tribune News Service