N.C. sheriff: Yes, our jail is in crisis; here's my plan
"I am dedicated to the safety and security of this agency and will exhaust all efforts to ensure its success," writes Sheriff Garry McFadden
---
By Sheriff Garry McFadden
The Charlotte Observer
        
CHARLOTTE, N.C. — As the Mecklenburg County Sheriff's Office enters a new year, it's no secret that this is a critical time for the agency, and we are in crisis.
Staffing is significantly low, COVID-19 cases are rising again, and reports of assaults inside the detention center are making headlines. Currently, there are 250 vacancies at the detention center with more than 50 detention officers on continuous leave under the Family and Medical Leave Act.
Since COVID-19 was declared a pandemic in March 2020, detention operations have shifted significantly. Today, 19 of the 39 housing units are in respiratory isolation with residents either symptomatic with concern for COVID-19 or having experienced an exposure to the latest variant of the virus.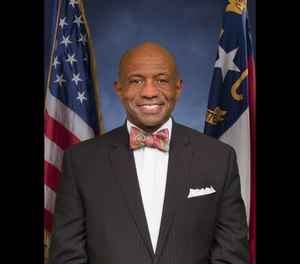 Our detention staff face the unknown outside and inside the facility as approximately 20 to 50 residents are being processed each day. Court operations were modified, putting many trials on hold, and extending the time some residents have been in custody. Adult programming and in-person visitation have been on hold for almost two years due to COVID-19 protocols.
Much like the citizens of Mecklenburg County experienced "COVID fatigue" while being locked down, our dedicated men and women, who didn't have the option of working from home, experienced the same.
Unfortunately, statements to media about detention conditions only reinforce anxiety and fear, forcing staff to choose between their commitment to their careers or family.
The men and women who are housed inside the detention center are also experiencing fatigue, creating restlessness and certainly tension.
I take it very personally when members of my staff are assaulted. In April, I issued a directive to captains and sergeants to help enhance the safety and security for detention center staff. No one should come to work, and fear being attacked for doing his or her job.
I have sat with detention officers at the hospital after an assault and I've visited the cells of residents who were responsible for the assaults. I understand, appreciate, and share in all their concerns.
In addition, mandatory overtime has taken a toll. All detention personnel are required to work two additional workdays per month. It is difficult to expect staff to perform their best when they are working 16-plus hour days to cover shortages.
We created a specialized Tactical Response Unit trained to effectively handle difficult and potentially dangerous situations to maintain safety inside the detention center.
The Mecklenburg County Sheriff's Office remains one of the only nationally accredited agencies in the state and received a score of 99% compliance from the American Correctional Association, maintaining national accreditation for 18 years. In March 2022, we expect to receive the Triple Crown Award, a rare distinction for sheriff's offices that achieve simultaneous accreditations.
On Dec. 21, 2021, the N.C. Department of Health and Human Services conducted a biannual inspection of the detention center, which lasted a few hours. Preliminary findings determined a reduction in population is needed immediately.
[More: N.C. jail to reduce inmate population due to 'signficant safety concerns around staffing shortages']
I have personally appealed to our partners in the criminal justice system — including judges, prosecutors, public defenders, the N.C. Sheriff's Association, and the U.S. Marshal in Charlotte for help in reducing the jail population. I am grateful for their thoughtful review of who comes into custody, remains in custody, and whether any of our current residents should be considered for release or transfer.
We are continuously recruiting and have added a sixth detention school class, as opposed to five. Our next recruiting class has more recruits than neighboring law enforcement agencies. But again, negativity only complicates recruiting efforts of the Mecklenburg County Sheriff's Office.
Contrary to popular belief, 10-second sound bites, and headlines, I am dedicated to the safety and security of this agency and will exhaust all efforts to ensure its success.
McFadden has been sheriff since 2018. He previously served 36 years as a police officer and homicide detective with the Charlotte-Mecklenburg Police Department.
©2022 The Charlotte Observer.
McClatchy-Tribune News Service