NYCDOC recognizes top officer for keeping COVID-19 at bay in jails
Chief of Department Hazel Jennings was awarded the Frederick O'Reilly Hayes Prize for her leadership of the department's response to the pandemic
---
By Sarah Calams
RIKERS ISLAND, N.Y. — The New York City Department of Correction recognized Chief of Department Hazel Jennings for keeping COVID-19 at bay in city jails. 
Jennings was awarded the Frederick O'Reilly Hayes Prize, which recognizes city workers "who have led outstanding, high-impact project work." She was given the award for her leadership of the department's response to the pandemic, according to a NYCDOC press release.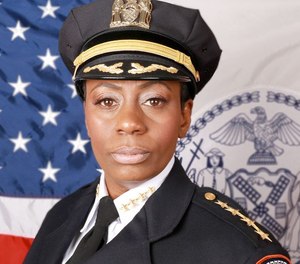 "Since even before the pandemic hit, Chief Jennings has been working tirelessly to keep people who live and work in our jails safe," said Department of Correction Commissioner Cynthia Brann. "She has been steadfast in her commitment to this goal. The public recognition for her leadership, especially during this public health crisis, is well deserved. I am extremely proud of everything she has accomplished."
Chief Jennings credits the partnership with Correctional Health Services as being key to the department's successful response, which included a housing strategy that quarantined COVID-positive,  symptomatic and asymptomatic exposed individuals from the general population.
"We have been listening to the science and working with CHS and the Department of Health to adapt our housing strategy to keep people as safe as possible. While I am grateful to receive this award, I want to acknowledge that this has been a team effort from the beginning. Our partnership with CHS has been the cornerstone of our efforts to contain the virus," Jennings said.
Since the pandemic began, a total of 11 DOC employees and three people in custody have died from COVID-19. Vaccines have arrived in New York City and will be administered accordingly. 
"We are not letting up in this fight one bit," Jennings said. "I have seen what the people who work in our jails can do. I see their bravery and commitment every day, and I know that we are not only in a strong place right now when it comes to our continued response, but we will come out of this stronger as a department."