Ohio state prison system to accept new inmates from county jails
Incoming inmates will be tested for COVID-19 at intake and will be held for at least 35 days before being transferred to a more permanent facility
---
By Allison Dunn
The Blade
ORIENT, Ohio — The Ohio Department of Rehabilitation and Correction intake center began accepting new inmates from county jails on Monday, the same day Ohio's prison director announced a staff member at the center had died from coronavirus complications.
The state facility will take up to 50 inmates a day at the Correctional Reception Center in Orient after it suspended reception on April 7, spokesman JoEllen Smith told The Blade on Monday. Later that day, the prison director Annette Chambers-Smith announced during the governor's daily news conference by video connection that Bernard Atta, 61, a nurse at the center, had died.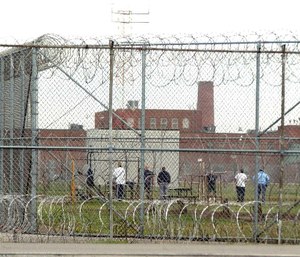 He is the third state correctional employee and the second nurse to die from the virus' complications. 
While Ms. Chambers-Smith announced plans for testing for the virus as well as an antibody test, she did not speak on Monday about the prison's approval of additional inmates. 
Incoming inmates will be tested for coronavirus at intake and then they will be held for at least 35 days before being transferred to a more permanent facility, according to the prison system's spokesman. 
"As the state continues to return to a new normal, courts are reopening in our communities which necessitates the need to resume reception," Ms. Smith told The Blade on Monday. "Reopening the reception process will be done in a gradual, controlled manner while we continue to carefully monitor county jail operations."
Roughly 4,500 people have tested positive in the prison system for the coronavirus. More than 60 inmates — including nearly three dozen at Pickaway Correctional Institution and 14 from the Marion Correctional Institution — and three staff members have died, according to state data. 
A report by the ACLU of Ohio and Policy Matters Ohio shows that the coronavirus death rate in Ohio prisons is nearly 10 times higher than the state's general population.
Piet van Lier, researcher for Policy Matters Ohio, said the reception center was built for less than 900 people but houses 1,500, and that no new inmates should be admitted. Letting in new inmates right now, he said "borders on criminal neglect."
"Even though Gov. DeWine and the DRC director say they have done a good job protecting people in the prison system, everything we hear from incarcerated people and staff suggests that the state's response has been completely inadequate," he said. "It's not too late to save lives, but the governor must act quickly to release many more people safely but quickly."
The Toledo Correctional Institution, a state prison for men located at 2001 E. Central Ave., has had no inmate or staff deaths, but at least 13 staff members and 12 inmates have tested positive for the virus, according to state data.
As of Monday, 12 inmates housed at the Lucas County jail were awaiting to be sent to the state prison's reception center, Lucas County Sheriff John Tharp told The Blade. 
The sheriff said he anticipates the inmates will be sent to the prison later this week. 
"That's good to get 12 out of our facility. It reduces the inmate population, which increases our chances of keeping people well and not getting sick or getting this virus," he said. 
On average, approximately five prisoners are sent to the state prison a week, but because court hearings have significantly slowed during the pandemic, there are not as many inmates waiting to go to serve their sentence, according to the sheriff. 
Coronavirus symptom screenings for inmates are to be done prior to sending them to the department of corrections, Ms. Smith said. 
Locally, the Lucas County jail's average population prior to the virus outbreak was more than 400 people. 
The jail's population on Monday was around 310 people, but the population had dropped to 270 inmates at one point during the pandemic — numbers which haven't been seen since the 1980s, Sheriff Tharp said.
The sheriff attributes the lower population to police issuing more summons and judges setting recognizance bonds in suitable situations. He hopes the trend continues. 
"Everyone has done an amazing job at keeping the population down and making sure the right people are incarcerated and brought into the facility. We need to continue to do what we've done and keep the population down and not let it creep back up again," Sheriff Tharp said. 
While both staff and inmates are given a mask and the facility has a thorough cleaning regiment, jails tend to serve as breeding grounds due to the close interaction between people. 
At the jail, 19 employees and six inmates have tested positive for the coronavirus. Two staff members are currently off work with the virus, he said. 
Earlier this month, the Corrections Center of Northwest Ohio again began accepting inmates after it also put a halt on its admissions. The jail houses inmates from Defiance, Fulton, Henry, Lucas, and Williams counties. No additional cases have been reported since opening, executive director Dennis Sullivan said on Monday. 
As of Sunday, "CCNO no longer has any inmates in isolation or quarantine for COVID-19," he said.
———
©2020 The Blade (Toledo, Ohio)
McClatchy-Tribune News Service