Opinion: Why it's only a matter of time before COVID-19 paralyzes corrections
There is a crisis looming on the horizon that is not being adequately addressed: the proactive and accelerated release of offenders
---
This article is reprinted with permission from Grapevine, the official newsletter of NAAWS
The COVID-19 pandemic is presenting our nation with an unprecedented challenge that has us fearful and growingly isolated. 
As we monitor the disease's progress, we watch our government at both the federal and state level, attempt to meet the ever-increasing demand for personal protective supplies, medical equipment and ICU beds. It is painfully obvious that we were not prepared for a pandemic, and the government's response has been slow and, thus far, appears to lack a comprehensive long-term national strategy.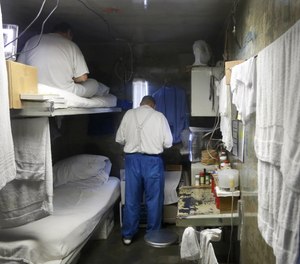 Corrections is a hidden risk
While society struggles to meet these challenges, there is a forgotten "society within a society" that we know quite well: corrections. I recently sat in on an American Correctional Association (ACA) webinar regarding responding to the coronavirus in corrections and reviewed the CDC guidelines for correctional and detention facilities. While ACA's proactive response and the preparations underway at correctional systems across the country are to be lauded, there is a crisis looming on the horizon that is not being adequately addressed: the proactive and accelerated release of offenders. 
If wardens were honest, they would admit that our facilities are little more than "docked cruise ships" as we face this virus. Corrections administrators are taking proactive steps to obtain and inventory necessary medical and sanitation supplies, eliminate visitation, screen essential staff entering facilities, increase sanitation schedules, educate both staff and offenders on personal protection practices, control offender movements, and update medical crisis and isolation plans and procedures. However, even with these vital steps underway, these same administrators must admit that, by design, facilities are not able to provide appropriate social distancing, and are not adequately staffed with medical personnel to address a crisis of any real magnitude.
Correctional facilities are not islands
So, with everything else going on, a valid question is why should the general public care? The answer may not be readily apparent to the average person, but though isolated, our facilities are not islands. Our facilities are woven into the fabric of the communities that host them. Their residents are our staff and their hospitals are our resources when an offender's medical condition so dictates.
Consequently, a serious outbreak of COVID-19 in a correctional facility will greatly impact the surrounding community. Some of our staff, their neighbors, will undoubtedly be infected and bring the virus home with them. Additionally, critically ill offenders requiring ICU beds will also impact the availability of such resources for community residents who may also require them.
To help alleviate these unfavorable facility conditions and reduce the likelihood of a serious outbreak, the expedited release of offenders must be considered. Sounds crazy? Not so. 
Reduce the offender population 
As I write this editorial, detention facilities in many states are implementing policies to reduce their offender populations and provide for more manageable circumstances in their respective facilities.  However, these efforts are generally smaller and less prevalent than these circumstances require. 
Additionally, I am not aware of any efforts on the state or federal level to establish any new structured programs/guidelines to expand or accelerate the release of offenders from prisons. An encouraging sign was a March 26 letter from Attorney General Barr to the Bureau of Prisons to ensure the Bureau utilizes home confinement to "grant certain eligible offenders home confinement in certain circumstances."  However, while this memo acknowledges the benefits of reducing the offender population in federal prisons, it appears to rely on an existing program that will not significantly impact the offender population within the Bureau of Prisons. 
I don't mean to suggest that this is a simple process or one that can be implemented without considerable negotiation and guidelines. What I am suggesting is the complexity should not deter us from lobbying for what may be required to safeguard the health of our staff and the offenders in our charge. Accelerated parole considerations, moving up the releases of offenders with approved parole dates, and releasing elderly and/or disabled offenders are "low hanging fruit" that could be a starting point. The next phase could be suspending the sentences or utilizing home confinement for offenders with non-violent offenses or whose criminal histories make them unlikely to re-offend. 
The concept of taking radical steps to reduce offender populations is something that is beginning to garner attention and support. Recent op-eds in the New York Times and The Washington Post have made the same call for significant reductions in the number of offenders being held in prisons to help manage the potential of a widespread virus outbreak. The Washington Post article was written by Josiah Rich, professor of medicine and epidemiology at Brown University, Scott Allen, professor of medicine emeritus at the University of California at Riverside and Mavis Nimoh, the executive director of the Center for Prisoner Health and Human Rights at the Miriam Hospital. The Times editorial was written by Dr. Amanda Klonsky, a scholar of education and mass incarceration and the chief program officer for a prison education organization. While these are highly credentialed professionals with considerable knowledge of medicine and incarceration, unfortunately, theirs are not voices that typically help formulate corrections policy with the United States.
Now to the heart of my plea. It is up to us, recognized experts in corrections, to lend our voice to this serious issue. Many of us have formed excellent relationships with our local, state and federal elected representatives. We fostered those relationships during the debates over PREA and restricted housing. Our opinions matter and our silence has consequences. So, my request is simple, give this matter your consideration, and if you agree with the call for population reductions, make this effort a priority. Please remember, we matter, and it is up to us, not academics, to lend credence to this effort. You can choose to act or stay silent, of course, that choice is yours.  However, ignoring this situation will not change one simple fact, it's only a matter of time…