Proactively treating COVID-19 positive populations in correctional facilities
Monoclonal antibodies can help prevent higher-risk patients from developing severe illness related to COVID-19
---
By Jimmy Fernandez, MD, and Roberto V. Pichardo, PharmD
COVID-19 has presented unprecedented challenges to our leaders, healthcare executives and clinicians. Much like the general population, the correctional healthcare sector has been greatly impacted by the pandemic.
Most recently, the Delta COVID-19 variant has been found to lead to increased transmissibility compared to other variants. This has led to an increased number of daily reported new cases. This increase in patients infected with COVID-19 is overwhelming healthcare infrastructures in certain states like Florida and Texas.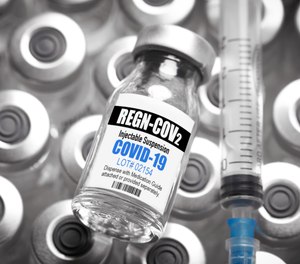 In an effort to provide high-quality healthcare for the patient population, Armor Health implemented proactive processes and procedures in response to the COVID-19 pandemic at each of its facilities. In addition to our best-in-class action plan, Armor Health has begun administering monoclonal antibodies to those higher-risk patients who meet specified criteria. This allows us to maneuver quickly on our patients who possess the highest risk for suffering an adverse event.
What are monoclonal antibodies and can they help treat COVID-19?
Monoclonal antibodies are manmade versions of the antibodies that our bodies naturally make to fight invaders, such as the SARS-CoV-2 virus.
The U.S. Food and Drug Administration (FDA) has issued an Emergency Use Authorization (EUA) to permit the emergency use of three monoclonal antibody treatments for COVID-19. These monoclonal antibodies attack the coronavirus's spike protein, making it more difficult for the virus to attach to and enter human cells.
The treatments may be used to treat non-hospitalized adults and children over age 12 with mild to moderate symptoms who have recently tested positive for COVID-19, and who are at risk for developing severe COVID-19 and/or being hospitalized. This includes people over 65, people with obesity and those with certain chronic medical conditions.
The monoclonal antibody combination of casirivimab and imdevimab, called REGEN-COV and made by Regeneron can be administered as a subcutaneous injection or an intravenous infusion in a clinic setting. It is not currently authorized for hospitalized COVID-19 patients or those receiving oxygen therapy.
The Armor Health COVID task force embarked on a proactive approach providing guidance and direction to our facilities across seven states to procure and administer the REGN-COV monoclonal antibody to all individuals and healthcare staff who met the criteria.
Early adoption of the use of this agent prevented COVID-19 or progression to severe COVID-19 and/or hospitalization when given early in the infection to high-risk individuals who met the criteria for use. This quick response prevented the progression of COVID-19 to affected individuals and averted hospitalization in a vulnerable population. In many states, ICU beds in hospitals are at a minimum. If all correctional facilities utilize the monoclonal antibodies as a way to treat high-risk patients and keep them from the need to be transferred to local hospitals, the correctional facility is caring for the patients in need and the community it serves at the same time.
Unlike many correctional facilities that experienced significant outbreaks of the illness in both the inmate and staff populations, our collaborative management and screening minimized illness within our sites reduced risk to patients and staff and provided a model for others to emulate. 
Bibliography
Infectious Diseases Society of America guidelines on the treatment and management of patients with COVID-19.
NIH. Coronavirus disease 2019 (COVID-19). Treatment guidelines.
Interim Guidance on Management COVID-19 in Correctional and Detention Facilities. 
---
About the authors
Dr. Jimmy Fernandez is the chief medical officer for Armor Health and Roberto V. Pichardo, PharmD, is the chief pharmacy officer for Armor Health.