Sheriff's office halts in-person visits at Chicago jail
"This temporary modification will help protect the health and safety of staff and detainees," the sheriff's office said
---
COOK COUNTY, Ill. — The Cook County sheriff's office is cancelling all in-person visits to the county jail starting Monday because of the recent spike in coronavirus cases, the sheriff's office said Sunday.
After the state's stay-at-home order was lifted in the spring, the jail resumed in-person visits in June at an outdoor setting, according to a news release.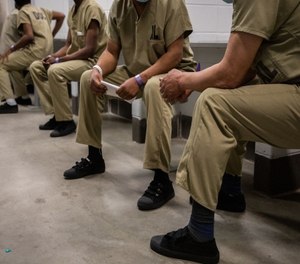 "Video visitation will continue to be provided to detainees as it has since April, and in-person visitation will be reinstated soon as it is safe to do so," according to the release.
Although the jail "has had great success containing the virus, given the strong encouragement by state and local health officials to promote staying at home and the current test positivity rates in the community, this temporary modification will help protect the health and safety of staff and detainees," the sheriff's office said in the release.
So far, 652 jail inmates have tested positive for COVID-19, including 127 detainees who currently are positive for the coronavirus, according to the sheriff's office. Of those, seven inmates have died. None are currently hospitalized.
In total, 747 sheriff's employees have tested positive, with 60 correctional officers currently with COVID-19 and 59 other employees; four correctional officers and one sheriff's deputy have died from coronavirus-related causes.
___
(c)2020 the Chicago Tribune
McClatchy-Tribune News Service