Unvaccinated Mass. COs fired over COVID mandate
The initial round of termination letters was sent Tuesday; impacted officers now have 10 days to appeal
---
By Alison Kuznitz
masslive.com
        
BOSTON — Some state correction officers who defied Gov. Charlie Baker's COVID vaccine mandate were fired this week — coming one month after the deadline passed for more than 40,000 Executive Department employees to be fully vaccinated.
Correction officers who refused to get the COVID-19 shot were placed on an unpaid five-day suspension, followed by an unpaid 10-day suspension before facing the Baker administration's steepest disciplinary measure. The initial round of termination letters was sent Tuesday by DOC Commissioner Carol Mici and reviewed by MassLive.
"You were informed that if you failed to provide documentation of compliance by the end of your suspension, you would be subject to termination," Mici wrote in the letter. "Since you have failed to provide that documentation, your employment is terminated effective November 12, 2021."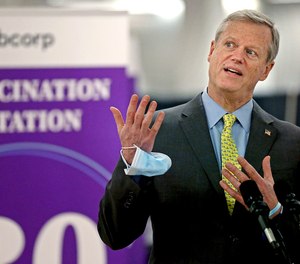 Other top DOC officials were copied on the letter, including Deputy Commissioners Patrick Depalo, Michael Grant, Robert Higgins, Mitzi Peterson and Thomas Preston.
It is not clear exactly how many correction officers, as well as state workers in other agencies across Massachusetts, lost their jobs so far over Baker's vaccine requirement. But the tally is expected to rise as suspensions conclude and employees remain unprotected against the coronavirus.
State officials have not disclosed the vaccination rate among Executive Department employees — or specified how many people are suspended or fired — since Oct. 27. No new information was available on Tuesday, a Baker spokesman said.
The data released last month signaled that the vast majority of workers — almost 94% — were vaccinated against the coronavirus.
But 362 employees were on the "discipline track," serving either 5-day or 10-day unpaid suspensions over noncompliance, according to the Oct. 27 data that did not provide a breakdown by individual department or agency.
Baker's vaccine mandate prompted staffing turmoil at the DOC, according to a prison officer and family members of other correction officers. Dozens of workers who received religious exemptions waivers were later told those approvals were issued in error, MassLive reported last month.
"The Department's obligation to protect the safety of your colleagues, prisoners, and members of the public during this ongoing and serious global pandemic, would require finding you a new position within the Department," the DOC had stated in the exemption rejection. "This would be an undue hardship on the ability of the Department of Correction to manage its operations."
In the termination letter sent Tuesday, correction officers were told they had 10 days to appeal to the Civil Service Commission. The letter also included information on state unemployment benefits.
Despite looming staffing challenges, the DOC updated its visitor policy last month, allowing family members, attorneys and volunteers to enter state prisons after undergoing a rapid COVID-19 test. There's no accompanying vaccination requirement for visitors.
About 1,400 visitors were processed since Oct. 27, but it is unclear how many tested positive for the virus, according to new data shared with MassLive.
As of Wednesday, there are just five active cases at state prisons, including three at the Massachusetts Alcohol and Substance Abuse Center. That compares to 11 active cases last Thursday.
©2021 Advance Local Media LLC.
McClatchy-Tribune News Service