'A major step forward': Budget will expand addiction treatment in Conn. prisons
The funding could bring medication-assisted treatment to as many as 1,200 new patients
---
By Lindsay Boyle
The Day
The two-year budget Gov. Ned Lamont signed last week includes $8 million to expand addiction treatment in Connecticut's correctional facilities, a move advocates say is "a major step forward" in fighting the opioid crisis.
The funding could bring medication-assisted treatment — or the practice of combining therapy with medications that reduce the symptoms of withdrawal — to as many as 1,200 new patients, the state Office of Fiscal Analysis estimated.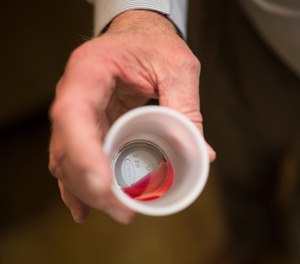 "We're thrilled," said Karen Martucci, spokeswoman for the state Department of Correction. "We saw some funding for treatment in the proposed budget, of course, but you never know what the final version is going to look like."
Martucci said DOC's addiction services team is working with its fiscal unit to determine when and how to expand.
Right now, the state offers methadone — one of three main withdrawal-reducing medications — on a limited basis in six of its 20 facilities. It serves about 220 people daily. Most who qualify for the programs were on methadone before incarceration or are about to re-enter the community.
Martucci said DOC is deciding whether to add new programs, expand existing ones, lessen restrictions for participants or do a combination of all three. "We don't have a finalized plan, yet," she said.
Connecticut has been expanding its medication-assisted treatment programs since October 2013, when it launched a program at New Haven Correctional Center.
The most recent addition is Osborn Correctional Institution in Somers, the first prison to get a methadone program. Martucci said that's noteworthy because offenders who join methadone programs while in jail awaiting a sentence can be transferred to Osborn and stay on methadone. Studies have shown participants are more likely to continue treatment upon release and less likely to receive disciplinary tickets or be rearrested for a felony.
"If you look at the overdose numbers in the state, more than half of the fatal overdoses are somebody that was once in the (DOC) system," Martucci said. "This is a good place to expand upon what we're already doing."
The state's chief medical examiner reported 1,017 fatal overdoses in Connecticut last year.
Martucci said DOC also offers addiction services such as Narcotics Anonymous and Alcoholics Anonymous, but likely won't meet the need even with those and the methadone program expansion. Between 75 percent and 85 percent of Connecticut's roughly 13,000 prisoners struggle with addiction, the DOC has said.
"The need is so great," Martucci said. "It's a national crisis."
While she's a little nervous the funding is for only two years, she said that's the nature of the budget. "For us, the more people we can treat, even if just for two years ... we have to take advantage of the funding when we have it," she said.
Sam Marullo, a Yale University law student who has helped craft prison treatment legislation in Connecticut and Rhode Island, also knows the funding may be temporary, but said a recent federal court case out of Maine gives him hope. In it, the U.S. Court of Appeals for the First Circuit in Boston in May ordered a rural Maine jail to provide Brenda Smith, a resident of Madawaska, Maine, with buprenorphine, which is known by the brand name Suboxone, during her 40 days in jail.
The ruling "doesn't apply directly to Connecticut, but it's the kind of thing that's going to make it difficult for states that provide treatment to walk it back," Marullo said.
©2019 The Day (New London, Conn.)
McClatchy-Tribune News Service