Ala. lawmakers put temporary hold on $1B contract for prison healthcare
Attorney: "Information came to our attention that there had been possible undue influence, so we rescinded that intent to award"
---
By Mike Cason
al.com
MONTGOMERY, Ala. — A billion dollar contract to provide medical and mental health care for Alabama prison inmates came before the Legislature's contract review committee on Thursday and sparked a lengthy series of questions from lawmakers, who put a temporary hold on the deal.
The Alabama Department of Corrections (ADOC) contract is with CHS AL, LLC, doing business as YesCare, based in Brentwood, Tenn. The $1.06 billion contract will cover four-and-half years, starting in April and extending through September 2027.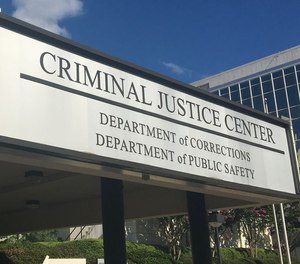 The contract review committee questioned ADOC acting general counsel Mary-Coleman Roberts at length. The committee cannot stop state agencies from entering a contract, but can hold them for up to 45 days.
Sen. Dan Roberts, R- Mountain Brook, chair of the committee, said he was putting the contract on hold to get more questions answered. Roberts said his main focus was to see if the state can save money by taking advantage of Medicaid or Medicare eligibility for a small portion of the inmate population, which he said some other states are doing. Roberts said he also wanted to hold up the contract because other lawmakers had concerns.
Rep. Chris England, D- Tuscaloosa, questioned Mary-Coleman Roberts about the ADOC's decision to repeat the bid process last year after allegations about YesCare having an advantage because of inside information and a possible conflict of interest.
The ADOC first announced in July that it chose YesCare over four other companies that responded to a request for proposals (RFP). The other companies that sent proposals were Centurion, Vital Core, Wellpath, and Wexford, the current contract-holder.
The ADOC later announced it had rescinded that decision and would issue a new RFP. At the time, the agency did not give a specific reason for repeating the process, saying only that it was done "out of an abundance of caution." Then in December, the agency named YesCare the winner again, over Centurion, Vital Core, and Wexford.
"Information came to our attention that there had been possible undue influence, or at least the appearance of undue influence," Mary-Coleman Roberts told the committee today. "And out of fairness to all the vendors and in the interest of transparency to the state, we went ahead and rescinded that intent to award."
England, an outspoken critic of the ADOC for years, pressed Roberts for specifics on why the RFP was repeated.
Roberts said there were allegations delivered in writing to another state agency that one of the vendors had information about what was in the RFP. Roberts said the ADOC investigated the allegations. Roberts said she worked on the RFP but was not involved in that investigation so she did not know all the specifics about it.
England asked Roberts what the ADOC did to make the second RFP fair.
"We changed part of the RFP we feel like to alleviate that issue," Roberts said. "We also talked to other state agencies about how they felt about this process. And everybody agreed that basically starting over and leveling the playing field was enough. We put out explicit instructions prior to the release of the second RFP that gave every vendor the same information that that vendor allegedly had the time before."
England asked Roberts about YesCare's connection to William Lunsford, a lawyer with Maynard Cooper & Gale who for years has represented the ADOC in a federal lawsuit over medical and mental health care for inmates, an ongoing case filed in 2014.
Roberts told the committee that the ADOC discovered after the first contract award to YesCare that the company had offered Lunsford a position on its board. YesCare had also named Lunsford to an advisory board. Roberts said she did not know if Lunsford actually served on the board, only that he was offered a position.
"He was on an advisory board only, that's my understanding," Roberts said. "He had nothing to do with their proposal and this contract."
"In any event, by the time the second RFP was issued he was no longer on the board and no longer affiliated with YesCare in any way," Roberts said.
Roberts said the ADOC did not think Lunsford did anything wrong. But she said the ADOC added terms to the second RFP to prohibit similar potential conflicts.
"We put some additional contract terms in there that said you can't share counsel," Roberts said. "You can't hire anybody that's a contractor of the ADOC. Things of that nature to sort of tighten that up."
England said the ADOC's handling of the RFP created a "massive cloud," especially considering the size of the contract.
"I would recommend that before this contract is signed that you give us more detailed information around the allegations so I can get a better idea of what exactly happened," England told Roberts.
In response to questions from AL.com about England's assertion that the RFP process was tainted, YesCare CEO Sara Tirschwell issued a statement:
"We respect the Alabama Legislature's oversight role in reviewing contracts related to important state services like correctional healthcare," Tirschwell said. "We will continue to work to address any questions on the part of committee members, and we look forward to returning to Alabama on April 1 to serve the people of the state."
YesCare has previously provided health care for the Alabama prison system under the company name Corizon with different leadership and different financial backing, according to Mary-Coleman Roberts.
Roberts said YesCare's bid was not the lowest but scored the highest based on a combination of factors, including costs and services and staffing provided. She said the contract works out to an average of $833 per month per inmate.
"We believe YesCare would be a good partner for the state of Alabama," Roberts told the committee.
Sen. Roberts, the contract review committee chair, said he wants to talk to ADOC about making sure it is taking advantage of Medicaid and Medicare eligibility for some inmates that could shift the cost of their health care from the state. He said Georgia is saving money through a medical furlough program that moves some inmates to nursing homes.
"We're in a situation here that I see what some other states are doing that saves what I would call nickels on dollars, more than pennies but not huge chunks," Roberts said. "But if I had to guess I'd say 4 percent of our current (inmate) population might be eligible for something. And I'm trying to get in the weeds on that. Because 4 percent of $1.06 billion is a lot of nickels adding up to big dollars."
©2023 Advance Local Media LLC.
Visit al.com.
Distributed by Tribune Content Agency, LLC
McClatchy-Tribune News Service