Ban on shackling pregnant NY inmates sparks debate
Middletown Town supervisor said a local resolution arguing against the shackling ban "made me sick to my stomach"
---
By Joe Mahoney
The Daily Star
ONEONTA, NY — An effort by the state Sheriff's Association to ignite local opposition to state legislation that would expand a ban on the shackling of pregnant inmates has drawn backlash from one town supervisor in Delaware County who called the practice "repugnant."
Middletown Town Supervisor Marjorie Miller said a local resolution arguing against the shackling ban "made me sick to my stomach."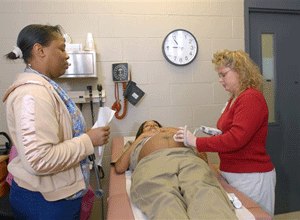 "Ultimately, the entire resolution (which surfaced in the county public safety committee) seemed to me to be anti-woman, anti-human, anti-humane," Miller, a retired librarian, wrote on her blog.
Last month in Albany, both houses of the Legislature passed a bill that would expand on a 2009 law that prohibits the shackling of female inmates while they are being transported to the place where they will give birth or while they are in labor.
The amendment to the 2009 legislation expands the prohibition against shackling to include pregnant women in general and any women who have had babies up to eight weeks after delivery.
Peter Kehoe, the director of the state Sheriffs Association, said the new legislation that has been sent to Gov. Andrew Cuomo represents an unfunded mandate on counties and will create more bureaucratic work for the sheriff's departments across the state. He said the legislation was never presented to law enforcement executives before it was acted upon by lawmakers.
"We are asking the governor not to sign it," Kehoe told The Daily Star. "The bill was obviously written by someone who knows nothing about operating a correctional facility. It was based on PC (political correctness) principles, instead of good common sense. There is nothing about a pregnant female — two months, or three months or six months pregnant — that makes her less dangerous than someone who is not pregnant."
In Cooperstown, the public safety committee of the Otsego County Board of Representatives took issue with the same legislation, and proposed a resolution criticizing the state measure. The resolution is expected to be acted on next week by the Board of Representatives. It was requested by Otsego Sheriff Richard Devlin Jr.
"It's another thing where we weren't involved, and decisions are being made that are going to affect operations and the safety of the officers and the inmates in general," Devlin said.
But Miller, contacted in Margaretville, said she hopes the resolution proposed in Delaware County is derailed, saying the measure now before Cuomo is needed because some sheriffs have been "ignoring" the 2009 law that would be amended and strengthened by the new legislation.
She also pointed out that all three Assembly members representing districts crossing Delaware County — Pete Lopez, R-Schoharie; Clifford Crouch, R-Bainbridge; and Claudia Tenney, R-New Hartford — voted in favor of the legislation that the proposed resolution criticizes.
"I'm really disappointed that this sort of crap is put in front of us," Miller said.
Delaware County Undersheriff Craig DuMond said restraining inmates has to be done at times to provide a secure and safe work environment in the jail for its staffers and the other prisoners occupying the facility.
"It's a crying shame we have pregnant females incarcerated," he said. "But the fact of the matter is we do, and we have to provide for public safety and officer safety first."
If an inmate believes she has been mistreated, DuMond noted, there are avenues for her to register complaints, such as filing reports with the state Commission on Corrections.
"I don't think there is any sheriff out there who is going to employ inhumane or barbaric practices," he said. "They (restraining techniques) would be exercised with a strong degree of common sense and appropriateness, and the sheriffs should be allowed the discretion based on public safety needs."