Feds override Calif. to aid inmates with drug overdoses
Current law allows registered nurses but not licensed vocational nurses to administer naloxone without getting permission from a doctor
---
By Don Thompson 
Associated Press
SACRAMENTO, Calif. — A federal judge overrode a California state law on Friday to help combat a growing problem of inmates dying from drug overdoses.
U.S. Judge Thelton Henderson of San Francisco approved waiving state law to allow licensed vocational nurses to administer the overdose antidote naloxone, which can reverse respiratory failures from opioid overdoses.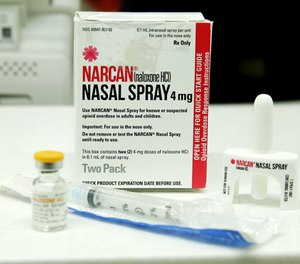 Drug overdoses are among the leading causes of deaths in California state prisons, killing an average of 17 inmates each year, federal receiver J. Clark Kelso said in asking for the override.
That's triple the national prison drug overdose death rate, according to an analysis of California prison deaths released in September. The rate has generally been rising from 2005 through 2015, the period covered in the report.
California law allows registered nurses but not licensed vocational nurses to administer the antidote without getting permission from a doctor.
"Precious time can thereby be lost and unnecessary injury, and even death, may result," Kelso wrote. He said it would take too long to wait for state lawmakers to change the law.
The prison system employs about 2,000 registered nurses and about 1,800 licensed vocational nurses.
Licensed vocational nurses "are predominantly our first responders for health care services in the prison system," Kelso spokeswoman Joyce Hayhoe said. "The LVNs really function as our EMTs and paramedics in the prison system, so that's why we needed them to be able to administer these lifesaving drugs."
The state and the nonprofit Prison Law Office, which represents sick inmates in a long-running federal lawsuit, both agreed with Kelso's request.
Kelso has rarely asked to override state laws during the nine years he has been the court-appointed receiver, though it was more common after Henderson first seized control of the prison medical system in 2006. Henderson acted after he found that too many inmates were dying of medical neglect and malpractice.