Ill. sheriff's deputies armed with life-saving overdose kits
Heroin use has increased 60 percent nationwide over the last 10 years
---
By Emily Steele
Herald & Review
DECATUR — Heroin use has surged nationwide as prescription medication regulations tighten.
The problem is widespread, but one local effort aims to prevent fatal overdoses by putting live-saving medications in the hands of all first responders.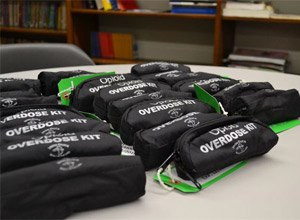 An overdose reversal kit is small. Michael Burkham carried 21 of the zippered pouches with him into the county jail where he recently trained corrections officers and sheriff's deputies on their use. These life-saving kits will soon be stored at the jail and in every Macon County Sheriff's Department patrol unit.
"The sheriff's department is working in more rural areas where they may be the first to respond before EMTs," Burkham said.
Mount Zion police, Millikin University police and the Decatur Fire Department already carry the kits. That number could rise dramatically if Gov. Bruce Rauner signs legislation sent to his desk that supplies first responders across the state with the overdose reversal drug.
Heroin use has increased 60 percent nationwide over the last 10 years, according to the U.S. Substance Abuse and Mental Health Services Administration.
"We do see an upward trend in heroin overdoses. We use naloxone on a daily basis," said Burkham, vice president of Decatur Ambulance Service.
As part of its mission to prevent fatal drug overdoses, the Mount Zion-based Tyler Yount Foundation donated the kits to each agency with help from its partners, Heritage Behavioral Health and St. Mary's Hospital. Burkham and his wife, Kathy, founded the organization after their son, Tyler Yount, died of a heroin overdose in 2009.
Sheriff Thomas Schneider said local law enforcement have seen an increase in heroin use firsthand. Medical personnel usually arrive first based on how first responders are deployed, but Schnieder said it's possible a deputy will need to provide first aid during an overdose.
"Whenever given the opportunity to do something in law enforcement that is less invasive and still perform life saving techniques, I'm not going to hesitate," he said.
One of his goals for the department is to expand the deputy's medical training. He's aware of only one other sheriff's office in the state, DuPage County, that has been trained to deliver naloxone.
"I know there will be other agencies following suit," Schneider said
Some of that is due to funding. Each kit costs $50.
"In our case, we're lucky to move forward with this without costing the taxpayers," Schneider said.
The kit holds a single dose of naloxone, also known as narcan, a drug that reverses the effects of an opioid overdose and restores breathing. The three-piece delivery system combines quickly and allows the responder to spray the medication into someone's nose instead of injecting it with a needle.
Users are trained to recognize an overdose, deliver the naloxone and support the person until medical personnel arrive.
"We're trying to keep them breathing," Burkham said.
Sgt. Ron Atkins attended the recent 30-minute training at the county jail. He said the system was simple to use, but added they usually arrive at the scene of an overdose after EMTs.
"(But) it doesn't have to be used frequently to be a good thing," Atkins said.
Burkham said he hopes one of the kits will save a life and lead an addict to a full recovery.
"That would negate my son's death," Burkham said.
The foundation's goal has been to raise money through private donations and grants to fund the distribution of naloxone and provide training throughout Central Illinois. The next step is to reach the general public and those closest to potential overdoses, the family and friends of drug users.
"Our goal is to save people and we need to put it where it's going to be used," Burkham said.