New Hampshire jail struggles with influx of mentally ill inmates
In the past year, there have been 159 cases of prisoners dealing with varying degrees of mental illness, ranging from acute to chronic
---
By Joshua Carney
The Eagle-Tribune, North Andover, Mass.
BRENTWOOD, Mass. — Stephen Church sits at the helm of an institution charged with rehabilitating people sentenced to do time in jail. But, he says, his job as superintendent of Rockingham County Jail has far more to do with preparing inmates for life outside than it does with having them idly mark time while in confinement.
"I've been locking people in cells for 30 years. I'm good at it," Church said. "If you think that's what corrections is, you're wrong. I can do it, but it creates more crime."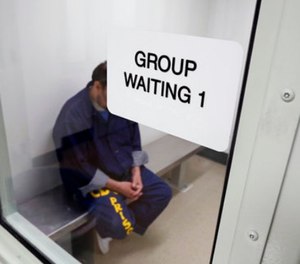 Church has made corrections his career for the past 30 years and has been superintendent at Rockingham County Jail since 2010. Over the decades, he said, he has witnessed a marked shift in the needs of inmates, the role that county jails play in meeting them, and the challenges related to successfully preparing prisoners for release.
With a maximum capacity of 383 inmates, Rockingham County jail currently holds 125, according to Church.
The facility is county funded, home to prisoners ranging from those facing a $200 bail for disorderly conduct to no bail on a first-degree murder charge, said to Jessica Salas, a licensed mental health and alcohol and drug counselor who works at the facility.
Crimes often associated with addiction and mental health issues are "largely under-reported," Salas said.
"Almost always there's a mental health component there. We don't talk enough about the mental health component and the co-occurring disorders that go along with it. How do we treat both? How do you do that in a jail setting? It makes it a lot more difficult," Church said.
In the past year, there have been 159 cases of prisoners dealing with varying degrees of mental illness, ranging from acute to chronic, according to the Rockingham County Corrections Department. Of those cases, 109 required enhanced observation of at least 15 minutes, and some required constant observation.
Enhanced observation is deemed necessary when inmates present a danger to themselves, a danger to others, or have an inability to handle self-care, Salas said.
In addition to putting a strain on the medical team, enhanced observation puts a "stress on staffing that is not trained to work with people who are mentally ill," Salas said.
"Make no mistake about it, they come to jail, I put them in a cell. ... But it's not a mental health setting," Church said. "You can't arrest your way out of it. It's a social and community-based issue."
Corrections facilities have become holding tanks for people with serious mental health issues and addicts caught up in the opioid epidemic, he said. Accommodating both types of populations are not what county jails were designed for, and the circumstances have strained Church, his staff and their resources.
"As much staffing as we put on it, this not a mental health institution," he said.
"What we run into an awful lot is, 'At least they are institutionalized,'" he added. "That's the feeling I get as an administrator — 'at least they're somewhere.'"
In 2012, Church hired Salas as director of Inmate Services and Programming.
Highly trained corrections officers are not expected to engage inmates as mental health clinicians, but the management structure for addressing these issues has changed under the guidance of Salas and her team. Officers can now turn to clinicians to learn to recognize and deal with symptomatic individuals, Salas said.
She said there is an overwhelming need for drug addiction treatment and mental health counseling in the jail, and that usually both are required.
"I don't see one without the other," she said. "The co-morbidity of the two are just so outstanding in our facility that it would be neglectful to treat one and not the other."
Still, she said, "We're a correctional facility first; we're not a treatment facility."
Inmates with serious mental illness can be admitted to the Secure Psychiatric Unit at the state prison in Concord, Church said, but doing so is yet another challenge.
"The problem is actually being able, when we go through that process, to get them there," he said. "To get them bed space, for the state to work with us and be able to take this person."
Salas recalls one case that took 18 days after getting paperwork signed before the inmate was placed in an appropriate facility.
Together, Church and Salas have identified ways to provide programming to help prisoners deal with the symptoms of mental illness and drug addiction.
At any given time there are about 15 such programs running in the jail, according to Salas. They range from a 28-day in-house addiction treatment program, to anger management for inmates with a history of assault, to "Hi-Set," a program in which inmates can work toward their GED while incarcerated.
The objective in providing such services is to "get them set up for what we call a 'soft-handoff,' or re-entry program, to put them back in the community but working with community partners, so that when we put them back in the community they have services already set up," Church said.
The Department of Corrections now makes it a priority to "start working on community resources at the beginning of a sentence," Salas said.
Inmates can be set up with appointments outside the facility, a suspended Medicaid number that is activated upon their release, and other community resources.
"That's something that we've implemented that's amazing here," Salas said. "But they have to want it."
Church said he hopes that they will be able to invest in a community corrections component to the re-entry programs. Residences outside the jail would provide a next step for inmates transitioning into treatment.
"Putting them in a community-type treatment center is the next logical step," Church said.
Church views transitional housing as the number one thing his department needs to help inmates move from incarceration into stable housing
"I have cells. I put people in cells. I have no choice," Church said. "And it is the wrong way to treat our mentally ill. Period. End of story."
©2018 The Eagle-Tribune (North Andover, Mass.)