Police rarely using Cleveland-area jail diversion center
The Cuyahoga County Diversion Center is for people exhibiting signs of mental illness or addiction who also are accused of committing non-violent crimes
---
By Molly Walsh
cleveland.com
CLEVELAND, Ohio — Cuyahoga County Council is considering a move to invest $4.3 million to keep the Diversion Center open for another year, which would offer police an option to help offenders avoid a jail cell.
But law enforcement hasn't been using the facility much since it opened on East 55th Street in Cleveland in May 2021.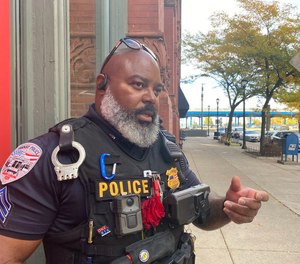 Police have only made about a quarter of the referrals, or 141 of the 545 people who have obtained treatment there through Sept. 6. The others walked in on their own or were referred there by friends or family members, according to Allyse Hawkins, clinical director of the Oriana House Inc., which operates the facility with the county's Alcohol, Drug Addiction and Mental Health Services Board.
The center was originally reserved for people exhibiting signs of mental illness or addiction who also are accused of committing non-violent, low-level crimes. In November 2021, it started to allow referrals from the community, including family and friends to help people who may be needing mental health or addiction services.
The goal sought to help people find treatment to address the underlying causes of crime, prevent people from cycling through the justice system and reduce the jail population. But Cleveland officers, who make most arrests, were delayed in using it, and records indicate the area's law enforcement agencies haven't fully embraced the program, either.
The numbers on the facility's usage come as Council's Public Safety and Justice Affairs Committee is set to begin discussing the financing issue this week.
Sgt. Robert Cummings, an officer with the Greater Cleveland Regional Transit Authority, said the center is helpful, but police fail to use it properly.
"I went to the Diversion Center last week, and they still had 12 beds open for intake that had not been utilized," he said. "...Not everyone that we have an encounter with needs to go to jail."
Police officers can call FrontLine Service, a crisis intervention hotline, when they have detained someone they believe could benefit from diversion. If FrontLine determines diversion is appropriate, police will transport that person to the center, but only if he or she is willing to go. Admission is voluntary, Robin Larson, the Center's clinical treatment manager, said.
"If you don't want to stay, you don't have to, but we just really engage with people to stay," she said. "Most of the time they will end up staying, but we have some who have left."
Out of the 35 law enforcement agencies who have made calls to the center, Cleveland police, transit police and the Cleveland Heights officers have the highest intake rates. As of Oct. 24, Cleveland made 171 calls, GCRTA made 33 and Cleveland Heights with 26. More than half of the departments have made less than five calls to the center.
In a survey sent to police departments across Cuyahoga County from the ADAMHS Board, 96 out of the 245 officers who responded said they had not encountered anyone in the last 12 months who may be eligible for the Diversion Center. Forty-seven officers skipped the question.
Lakewood police made 11 referrals to the Diversion Center leading to intake and admittance. Capt. William Albrecht said the department's use has been minimal because of bond reform measures instituted by Lakewood Municipal Court allowing flexibility in charging suspects without taking them into custody.
"We have used the center so infrequently that I don't remember the last time we referred anyone there," he said in an email. "We seldom have found ourselves without other alternatives to incarceration, although the center is on our radar."
He also said Lakewood's probation department helps find treatment solutions for those suffering from addictions or experiencing mental health issues.
Strongsville police officers have also made 11 referrals. Lt. Michael Campbell, who has overseen the implementation of using the Center, said more mental health training is needed for law enforcement.
"Unfortunately, our jails have become the modern-day mental hospital," he said. "There are a lot of people we have in jail who have mental illness or addiction issues who could probably get better help at a place like the Diversion Center."
In August 2021, Cleveland.com reported Cuyahoga County Jail housing 1,630 inmates. As of Oct. 24, the population was 1,649. The state prison system pegged the jail's capacity at 1,765 inmates. Authorities have quarreled over what to do with the county jail for months. Many stressed that the Diversion Center could drive down its population.
Hawkins, the clinical director of the Oriana House, said although a specific number proving the center reduces the jail population could not be provided, she believed the center is a success because of the services it provides.
"I think [the center is] impacting the jail population, but I think to put it on people and numbers is difficult," she said. "We're impacting clients, family and friends by passing law enforcement intervention completely and just getting the help that they need."
Scott Osiecki, the chief executive officer of the ADAMHS Board, agreed. He said the Diversion Center is a short-term program that connects people with services to help in the long run.
"When the person is ready to receive treatment, the Diversion Center is there…" he said. "The individual who came to the Diversion Center wasn't diverted from jail; he or she was diverted from a further crisis that could put them in jail."
Cummings, the transit officer, said law enforcement should be asking more questions on-scene when deciding whether an arrest is necessary or if the person should be diverted for treatment.
"You can make a decision right then and there," he said. "You can take them to somewhere that's going to help treat what their actual problem is, or to take them to jail, which may compound it."
©2022 Advance Local Media LLC. Visit cleveland.com. Distributed by Tribune Content Agency, LLC.
McClatchy-Tribune News Service