Veteran nurse is the heart of the medical department at SCI Houtzdale
With 2,517 inmates at SCI Houtzdale, there is a constant flow of patients through the medical department each day
---
By Mitchell Ross
Reprinted with permission from The Progress.
HOUTZDALE, Pa. — Brenda Smith has been employed at the State Correctional Institution in Houtzdale since its origin – she was even there before the inmates.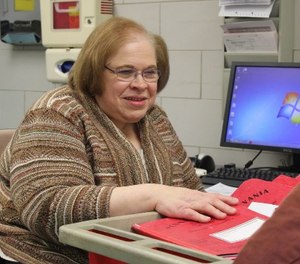 Smith began working in the medical department at SCI Houtzdale in December 1995. The first prisoners came in January 1996. With more than 20 years of experience, she is an integral part of this consistently busy division of the institution.
"I see every bit of lab work that comes through this place," Smith smiled.
The medical department at the prison consists of nearly 50 full-time employees. There is access to virtually any kind of medical care that the inmates could need while incarcerated. There is an infirmary that holds up to 20 people at once, a pharmacy, x-ray capabilities, optometry, dental and psychiatric care, to name a few.
The inmates receive routine lab work and wellness checkups from various doctors, physician's assistants, and nurse practitioners. Depending on the age of the inmate, checkups occur annually or bi-annually.
With 2,517 inmates at SCI Houtzdale, there is a "constant flow" throughout the medical department each day. There are 60 patients needing insulin twice a day, 30 tested for TB daily, several sick calls, and treatment of wounds – there is never a dull moment.
For medical care not offered physically within the walls of the prison, such as orthopedics and dermatology, the medical department works with doctors at Temple University through a telemedicine program.
"(The inmates) are well encompassed as far as care," Smith noted. "We are essentially a mini hospital within our own community."
As for Smith, her official title is Infection Control Nurse, which is a position that comes with a wide range of responsibilities. She teaches classes regularly for inmates to share knowledge on diseases such MRSA, HIV or tuberculosis. Other lectures may include topics on knowing the differences between the cold and the flu or dealing with anxiety or depression.
Smith offers patients vaccines like the Hepatitis B or the flu and any immunizations required for adults. In addition to the prisoners, her role is tasked with ensuring all employees stay up-to-date with their vaccines and education requirements.
One of Smith's primary responsibilities is to meet with inmates 1-2 weeks prior to their release. She goes through their medical history and gives them a synopsis of what has been done while at the institution. Smith also asks the patient to sign a release form allowing medical providers on the outside access to the individual's records. If needed, an inmate can receive a 30-day supply of medicine when released.
In dealing with countless inmates, Smith said she sees a variety of attitudes and personalities, but rarely has any issues.
"When I give respect, I get respect," Smith added. "I really don't have any problems (with them)."
The variety in her work is what Smith said she likes most about her job. There is always something different happening and something new to learn each day. Smith said her role as infection control nurse provides many opportunities to encounter things never before seen in her medical career.
In her career, Smith has been in a variety of positions in the nursing field. She worked in a hospital, a nursing home, and even as a school nurse at the former Houtzdale Madera Elementary School – but never imagined working in corrections. When the prison was starting, she said her mom encouraged her to apply, and the rest is history.
"(Corrections) is not one of your choices when you're going to nursing school," Smith joked. "My mom was nervous of me traveling, so she put me in prison."