'It's unsafe': Ky. county jail employees say conditions deteriorating at jail
"People are falling asleep standing up," said James Knowlton, a long-time detention center employee
---
By Beth Musgrave
Lexington Herald-Leader
        
FAYETTE COUNTY, Ky. — Fayette County Detention employees told the Lexington council Thursday that despite efforts to up recruiting and increase starting pay and salaries, staffing shortages at the Old Frankfort Pike jail continue.
A lack of staff means officers are often working overtime — sometimes 16 hour days two or three times a week, jail employees said. The jail is more than 100 officers short.
[RELATED: Ky. county COs to get wage hike, bonuses as vacancy rate soars]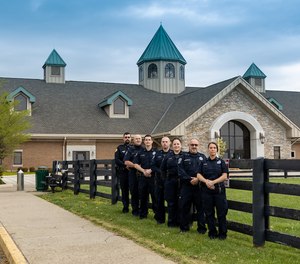 "People are falling asleep standing up," said James Knowlton, a long-time detention center employee, during Thursday night's council meeting. "It's dangerous for the inmates. It's dangerous for the community. It's dangerous for the staff."
Emily Brian has worked at the Fayette County Detention Center for 15 years.
Brian appeared before the council in 2018 to talk about conditions at the jail. At that time, the detention center was short 60 employees. It's much, much worse now, she said.
"It's unsafe," Brian said. "We don't have enough staff to cover overtime."
Since 2018, seven officers have been assaulted, she said.
In the past year, two inmates died by suicide. There were officers in those units but the deaths happened during a shift change, she said.
Over the past two years, officers have found six shanks made by inmates. That's not typical, Brian said.
"We don't have the manpower to keep anybody in that building safe, not even ourselves," she said.
What is the city doing to help with shortage?
Lexington Mayor Linda Gorton said they have upped recruiting efforts over the past several years and are working hard to get more staff. The jail has long been plagued with staffing shortages, she said.
"We have listened to our jail employees," Gorton said. "We continue to look at these issues every day."
Gorton said they have also had state and federal inmates moved out of the detention center to decrease the inmate population.
The city has set aside $100,000 to increase recruiting efforts. That money has been spent on advertising in nine surrounding counties, said Fayette County Detention Center Director Lisa Farmer.
That has led to new classes of recruits of approximately 7 to 10 employees. Farmer said they have opted to go for smaller class sizes so they can get those recruits through the academy and into housing units. The academy takes roughly five weeks.
In February, the council also approved a new two-year contract with the Fraternal Order of Police Town Branch Lodge 83, the union that represents most officers at the detention center. Starting pay was increased. All jail employees also received raises.
Farmer said March was the first month they were able to hire more employees to replace those that left. Employees are leaving for other jobs in criminal justice, including the Lexington police and fire departments. Others take jobs at the Federal Medical Center, which has higher starting salaries than the detention center, Farmer said.
State prisons and other county jails also are facing severe staffing shortages, Gorton said. Louisville Metro Corrections has struggled with similar issues.
Still, some council members said they are concerned the jail will not be able to quickly hire enough staff to make up for the severe staffing shortages.
Lexington-Fayette Urban County Councilman Richard Moloney asked if the city could do something now to get jail staff immediate help.
"Do we have to get the National Guard?" Moloney said.
Farmer said if the city declares a state of emergency, it does not trigger the National Guard stepping in.
Farmer said some recruits have been talked out of accepting positions by jail staff.
"There's so much negative spin," Farmer said.
Farmer said she has approached the unions at the jail about the possibility of hiring part-time staff to help with staffing shortages, which would decrease overtime. The unions have not yet responded to that request, she said.
Study coming soon
The National Institute of Corrections was supposed to do a study of the jail to look at its operations. The money for that study was originally allocated in 2019.
That study was delayed due to the coronavirus pandemic, Farmer said. One of the issues that study may address is whether to move the jail from direct supervision — which means officers are in the housing units — to a hybrid model where only some units would have officers in the housing units. Many jails have officers outside the units.
"Jails are moving away from direct supervision," Farmer said.
The National Institute of Corrections staff should be in Lexington in June, Farmer said.

(c)2022 the Lexington Herald-Leader (Lexington, Ky.)
McClatchy-Tribune News Service