New Ala. jail chief sets sights on improving CO retention
Morgan County Jail Capt. Richard Moat said he believes the jail is a place where lives can be changed daily
---
By Erica Smith
The Decatur Daily, Ala.
DECATUR, Ala. — The new chief of the Morgan County Jail is focused on reversing the rapid turnover rate of jail employees.
Capt. Richard Moats, 36, last month replaced the previous warden, Aaron Dawson, who resigned.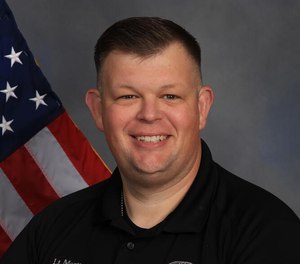 Moats said he believes the jail is a place where lives can be changed daily.
"I've found my passion for that," he said. "What better opportunity to be able to affect the lives of 650-plus people every day that are in custody in our facility and the 108 officers we have assigned to us. If I can have some sort of positive impact on their life, make their life better, make them not come back to jail when they get out, then I've achieved my goal."
Mike Swafford, Morgan County Sheriff's Office spokesman, said Dawson became warden under then-Sheriff Ana Franklin in 2017 and gave no reason for his resignation.
"By policy, the position was posted, and four individuals applied," Swafford said. "After an interview process, Lt. Moats was selected and promoted to jail captain."
Moats, 36, began his new role March 26, but he has been with the jail since 2010. Previously he was the administrative lieutenant.
"I was over the employees, the technological side of it, pretty much the day-to-day operations of it," Moats said. "Now, in this new role, I just take over everything in the jail. I basically oversee the entire operation now including inmates, officers, budget, everything."
Moats said his goal is to focus on staff retention.
"When we hire people, it's keeping those people," he said. "The turnover rate in the jail has been astronomical in the last few years. That is my number one priority is to figure out what's causing that, to address those issues, and to make sure we can keep people and we can find people who want to make a career out of working at the Morgan County Jail."
Hiring jail staff, Moats said, has been difficult as well.
"You'll have certain people that will apply, we interview them and think they're great, and then on their background certain things come up that we're not able to hire them," he said. "Or we'll have people, we'll offer them the job and they've taken a job somewhere else. It's a battle that everybody's fighting in every industry, in every business, so now it's just figuring out where our footing is in that and how to hold people once we get them in that job."
Moats said he requested the title of warden be changed to jail captain because the term warden is outdated.
"Us as a jail, we're not a prison, we're a correctional facility, so to speak, but we're not a prison," he said. "If you make it to lieutenant and then go into warden, it's a term that people think old school Alabama prisons in the 1930s. ... We're turning it into a more fluent position with the rest of the department."
Puckett asked for the new job title to be approved at the April 11 Morgan County Commission meeting.
"I am asking for the commission to change the title of the warden to captain — jail," he wrote in a memorandum to the commission chairman. "This title falls in line with our other department heads who are all captains as well as our rank structure. This is only a title change; all other functions and requirements of the job description remain the same."
The change was unanimously approved by the commissioners.
Becoming a warden, or jail captain, is what Moats wanted from the beginning, he said, an ambition he explained to the warden that hired him.
"I told him I wanted to sit in his seat one day," Moats said.
Moats said during his tenure at the jail he feels he has already had an impact on inmates and his co-workers.
"I started out as a regular corrections officer and made my way up in rank," he said. "I think I have (had an impact) to a degree in every position I've held, but now I get to do it on a grander scale."
___
(c)2023 The Decatur Daily (Decatur, Ala.)
Visit The Decatur Daily (Decatur, Ala.) at www.decaturdaily.com
Distributed by Tribune Content Agency, LLC.
McClatchy-Tribune News Service