Tenn. governor boosts starting pay for COs by 37% in understaffed state prisons
Current officers will see a minimum 15% hike in their pay
---
By Andy Sher
Chattanooga Times Free Press
        
NASHVILLE — In an effort to ease guard shortages at Tennessee prisons where nearly half the positions are vacant, Gov. Bill Lee announced Wednesday he is boosting starting pay for correctional officers by a "competitive" 37%.
Current officers, meanwhile, will see a minimum 15% hike in their pay. Increases take effect Thursday.
"As we face staffing shortages across the country, rewarding officers with competitive pay will ensure we recruit and retain the most highly qualified individuals in our workforce," Lee said in a news release. "These Tennesseans play a crucial role in ensuring public safety, and we remain committed to valuing their important work."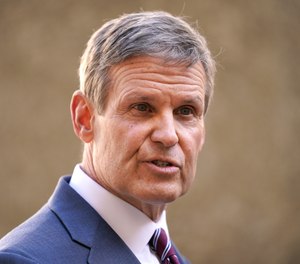 The 37% salary increase for new Tennessee Department of Correction officers will raise annual starting pay to $44,500. Tennessee will continue to pay a $5,000 sign-up bonus and offer part-time opportunities for current or retired law enforcement to meet staffing needs.
"This is great news not only for the deserving workers who receive the pay raise and their families but for the safety of all Tennesseans," said Senate Republican Caucus Chairman Ken Yager, R-Kingston, whose district includes Morgan County Correctional Complex, in a news release. "These positions are extremely important to operations in our prisons and are some of the most challenging and dangerous jobs in state government."
Yager called Lee's action critical to keeping experienced veteran officers on the job and helping to make prisons safe. He also said it should "help alleviate" problems Tennessee has experienced in filling open positions and keeping correctional officers "in a very competitive labor market."
Lee's move on Wednesday comes a little over a month after Tony Parker, then corrections commissioner, cautioned Lee that the department was continuing to experience difficulties in attracting and retaining correctional officers amid the ongoing COVID-19 pandemic. Parker asked Lee for an additional $15.86 million to boost annual starting pay for new correctional officers from $32,524 to $37,654. If they remained with the state for a year, their pay would rise to $39,541 annually.
Lee administration officials did not immediately respond to a request for how much more the steeper increases would cost.
The state has experienced record revenue surpluses despite the coronavirus. From July through October, tax collections were $400 million higher than projected. During the 12 months that ended in June, the state exceeded estimates by $1.9 billion.
The need to raise worker pay is clear, then-Commissioner Parker told the governor during the budget hearing.
"Over the last 18 to 24 months, we have experienced considerable difficulty hiring and retaining correctional officer employees in our prisons," Parker told the governor during the agency's Nov. 4 budget hearing.
Parker said peer agencies in Tennessee are reporting an average starting salary of $38,400. Among them is the Hamilton County Sheriff's Office, which offers $38,000, Parker said.
"And private companies have also substantially increased wages due to the nationwide difficulties in attracting workers," Parker said.
Tennessee government-run prisons' vacancy rate for correctional officers at the time was 46.8%, representing 1,141 positions. While state government operates 10 prisons, Tennessee also contracts either directly or indirectly with Nashville-based for-profit prison company CoreCivic, which operates four Tennessee prisons.
"Governor, I'll be honest," said Parker, "the request for the salary increase, while I initially made this, I'm not sure that this will be enough. I thought this will make us competitive in the job market that we have today in the state."
The outgoing commissioner, who worked 38 years in the state prison system, has since retired. He is expected to become president of Knoxville-based nonprofit 4th Purpose Foundation, which works on reentry and rehabilitation work for inmates.

(c)2021 the Chattanooga Times/Free Press (Chattanooga, Tenn.)