Texas sheriff's office adds PT detention officer jobs to address shortage
With more than 150 out of 347 detention officer positions vacant, the sheriff's office is turning to an "experiment"
---
By Sarah Sinning
DENTON COUNTY, Texas — With more than 150 active detention officer vacancies, the Denton County Sheriff's Office will soon test out a different approach to finding much-needed workers, the Denton Record-Chronicle reports.
In what Human Resources Director Gustavo Hernandez has called an "experiment," the jail is seeking commissioners' approval to open up 10 part-time detention officer positions and eliminate five of the full-time vacancies.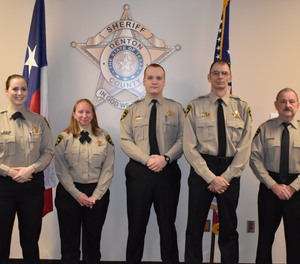 "We are trying to see if, by creating part-time positions, that would be attractive for some people to come," Hernandez said. "'Hey, maybe I can do two days a week, maybe I can do three days a week.' We are trying to think out of the box."
According to a memo from Sheriff Tracy Murphree, the positions would be budgeted at 24 hours per week, which will allow employees to work either two 12-hour shifts or three eight-hour shifts each week. No more than 30 hours per week will be permitted.
Officials previously attempted to attract more applicants by increasing overtime pay for officers. But with the jail not even 50% staffed – taking the facility well past the "extreme staffing shortage" the sheriff reported back in July 2019, when 46 of 347 positions were vacant – officials say a new approach is beyond necessary.
Assistant Chief Deputy Barry Caver hopes the new openings will appeal to retirees or students who can only work a few days per week, but he also says it's ultimately up in the air whether the venture will be successful.
"We just don't know if we're going to get any interest in it or not," Caver said. "It's one of the many things we're doing trying to recruit and come up with different ideas. It's tough."