Maintaining custody and control in correctional housing units
Effective inmate management is not possible without effective maintenance and management of available correctional resources
---
By Odetayo Odedere, C1 Contributor
Major interactions between offenders and correctional staff usually take place in the housing unit. Here, correctional officers engage with inmates. COs intervene, manage and resolve issues and conflicts that arise between and among inmates.
Most of the time, a prison emergency starts in the housing unit. At that point, correctional staff and their supervisors need to be able to contain the emergency, deactivate it, and restore security and order. Once an emergency spreads beyond the control of housing unit staff, it can easily become a threat to the public.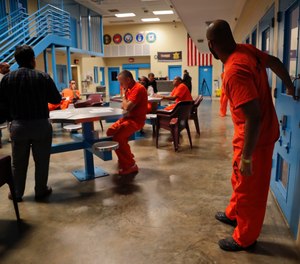 Major emergencies include inmate escapes, hostage situations, fire, inmate death and prison riots. Every prison facility will experience an emergency; however, a good leader and competent correctional staff will prevent the emergency from becoming a threat to the public.
Correctional Housing Unit Management
Maintaining the custody and control of incarcerated offenders in housing units involves developing and implementing a standard of operation that encourages a safe and secure atmosphere for inmates and correctional staff.
Custody staff should be able to observe inmate activities in their assigned cell and housing area. Movement of offenders from one area of the prison to another should not pose a safety risk or risk of escape. All inmates, regardless of age, race, physical capability, or crime convicted of, should be able to live in their housing unit free of threat, harassment, assault, or extortion from peers.
Maintaining the custody and control of incarcerated offenders in the housing unit includes providing for inmate needs and management of inmate welfare. Incarcerated offenders have little or no ability to make their own decisions. Correctional Housing Unit Managers (CHUM) and supervisors must be able to meet the needs of inmates assigned to their unit in accordance with the department's policy and guidelines. Just like people in the community, inmates need personal hygiene products, food and essential nutrition, recreation activity materials, clothes and other essential daily products. It is the responsibility of a good CHUM to develop and implement a standard of operation that provides inmate requirements.
Maintenance and management of inmate-control equipment, tools and other assigned assets are important part of the responsibilities of supervisors and housing unit managers.
Detention, custody and control of inmates is not possible without:
Mechanical control and restraint devices like cuffs, keys and lock devices;
Communication devices like radios, telephones and intercom paging systems;
Inmate population and movement control systems like electronically controlled doors, use of sally port, inmate holding cells, and the use of recreation and retention cages for high-security inmates.
A good leader must develop a plan and procedure for equipment control and accountability. In a prison facility, the potential for violence is high. Dangerous offenders are constantly looking for a way to disrupt operations. They engage in activities that pose a threat to safety and security of the facility. Broken radios, non-serviceable batons, or locking devices that do not work pose a threat to safety and security, and it can hinder effective custody of inmates and safety of correctional staff.
To prevent an emergency or a crisis, like escape, deadly assault on staff, or a hostage situation, proper maintenance, control and accountability of security devices, like control keys, restraints, radios, and other control station equipment must be maintained.
Leaders and supervisors must regularly conduct the inspection of their housing unit, supervise safety and custody drill, and maintain order and cleanliness of the unit.
References
Department of Public Safety, Office of Staff Development and Training. (2017). Prison Emergencies: Prevention and Response (822 PartII). Office of Staff Development and  Training: Adult Correction In-Service Training. Retrieved from  http://internal.doc.state.nc.us/osdt/lesson-plans/2017-2018/DPS-308-2017.pdf
Gelfand, M. J., Leslie, L. M., Keller, K. & Dedreu, C. W. (2010). Cultures of conflict: How   leaders and members shape conflict cultures in organizations. Academy of Management   Annual Meeting Proceedings, 1–6. Retrieved from the Walden Library using the  Business Source Complete database.
Reid Mandell, B., & Schram, B. (2012). An introduction to human services: Policy and practice (8th ed.). Boston, MA: Pearson Education.
---
About the author
Correctional Sergeant Odetayo Odedere is currently working in a maximum-security prison in the state of North Carolina. He completed his bachelor's degree in Political Science at the University of North Carolina, Greensboro, and later completed his master's degree in Human Services. Odetayo Odedere started his human services and public safety career as a correctional officer in 2009. Since then, he has worked as a Correctional Case Manager and now a Correctional Sergeant at Lanesboro Correctional Institution.