20 more signs you're a corrections officer
Freaking out when your keys aren't on your hip to open the restroom at home
---
Article updated on January 24, 2018
By Corrections1 Staff
We previously discussed 42 signs that you're a corrections officer, but there are always more to be had. Here's another 20 signs you might be a corrections officer. Don't see yours on here?  Be sure to add it in the comments.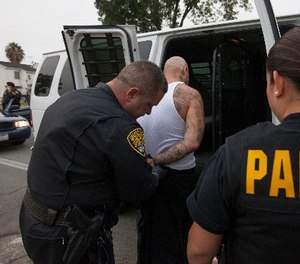 1. Positioning yourself at the front of a restaurant so you can see who comes in and out of the doors.
2. Freaking out when your keys aren't on your hip to open the restroom at home.
3. Reaching for a pen in your pocket, even when you're in civilian clothing.
4. When you're more comfortable being called by your first name.
5. When your second (or first!) language is sarcasm.
6. When life becomes a constant scenario training: you're constantly reviewing events in your mind before, during and after any interaction.
7. When you reply "write a grievance" when arguing with your spouse.
8. When you ring your door bell at your house and wait for someone to pop it for you, before realizing you have your keys in your hand.
9. Getting ready to run at the call for assistance for a customer in Home Depot.
10. Waiting for doors to slide open, then realizing they're manual.
11. Telling your teenage son "shakedown" before searching his room for contraband.
12. Being asked to spell something, and having to use the phonetic alphabet: alpha, bravo, charlie…
13. Hearing noise in the shower that causes you to drop your hand to your nonexistent radio.
14. When you finish off a plastic bottle at home and slice it open with a knife before tossing it.
15. Your kids aren't grounded, they're placed on "LOP" or "Shine status."
16. Taking your kids anywhere, whether it be school, soccer practice, or something else, is a "transport."
17. If you wash your hands before going to the toilet.
18. When someone asks you what you do for a living and you respond with "working in a daycare center" or "sanitation engineer."
19. When you get out of your car to go to the grocery store and shake yourself down for personal contraband so you don't violate facility rules.
20. When you say 10-4 to the speaker at a fast-food drive through.