9 staff members quit Neb. prison where inmates rioted
In addition to the staff who resigned after the May 10 disturbance, 40 other staff positions are unfilled
---
By Anna Gronewold
Associated Press
TECUMSEH, Neb. — Nine staff members have quit a Nebraska maximum security prison since inmates revolted last week and temporarily took over part of the facility, leaving two prisoners dead.
Officials allowed media inside the prison for the first time on Tuesday. Warden Brian Gage told Gov. Pete Ricketts that in addition to the staff who resigned after the May 10 disturbance, 40 other staff positions are unfilled.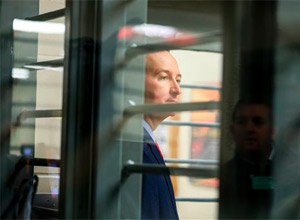 Gage says the facility's rural location 70 miles south of Omaha makes it difficult to recruit and retain older, experienced staff.
Officials say the disturbance began after officers confronted an inmate who was in the yard but was supposed to be on room restriction, and the prisoner refused to cooperate.
An investigation is underway. The 960-bed facility remains on "modified lockdown" with limited inmatemobility.