Bystander effect: Abuse of authority and why we fail to react
People who are experiencing the event in the moment may look to others to define their actions, and thus, may end up doing nothing
---
We have seen time and time again the abuse of authority and failure from others to intervene. Countless videos have documented correctional officers acting aggressively towards inmates, with other officers present who fail to act accordingly. We quickly begin to think that "if we were in the same predicament, we would have done the right thing and stopped the officer from abusing their sense of authority." But, we need to ask ourselves, is it really that simple? 
When we look at the videos and see the individuals abusing their sense of authority, we are seeing the video from a different perspective than seen from those, who at that time, went through it. From our perspective, we already know what has happened and, therefore, the actions that were required. In short, this scene has already been defined and we are using that definition to guide us in our reflective response.
But for those who lived it, they are seeing this as it happens and are in search of a way to define this novel situation. When they look towards others to define the situation and they see that no one is making an attempt to stop this abuse of authority, the person looking to define the situation may begin to use those who remain motionless as a key part in that definition. They may wrongly assume that those who have failed to act have failed to act because they believe that the need to act is either unnecessary, unwise or inappropriate.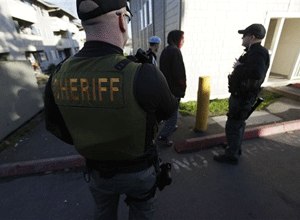 On another note, since there are multiple bystanders present, we now have diffusion of responsibility at play. With more than one person being held responsible, if the individual is wrong and there was a need to react, the guilt for not acting can be spread out. 
This brings us to another point: if there was only one person seeing the abuse occur, would there be a greater chance they would intervene? The answer is yes. First, if they are the only one witnessing the act, they cannot look to others to define the situation for them. As mentioned above, when there are multiple bystanders, the failure to act by others can be seen by the individual as unnecessary, unwise or inappropriate. But, when they are by themselves, there is no one to give that meaning. So, they have to look inwards. Therefore, when they see a situation where they may believe that authority is being abused, they will lift their sense of ambiguity by reacting.
Also, if they are by themselves, failure to act in accordance only leaves one person to blame.
In closing, we look to others to define our situation. When we see a video in which there are many witnesses to an act in which no one intervened, we must put ourselves in their shoes. Sometimes the individuals in question wanted to act, but was unsure of what it was they were seeing. Remember, what seems obvious to us is only obvious because we know the answer already. For the individual living the event, the situation is novel and the environment becomes their means to define what they should do next.