Dog days at Denver Women's Correctional Facility
Colorado Correctional Industries' K-9 Companion Program offers a chance for hope and redemption for inmates who train dogs and send them on to new homes
---
This story is printed with the permission of Colorado View Magazine.
By Carol McKinley
I dropped a triple A battery in the prison exercise yard and you would've thought it was a bomb. "Oh, quick...pick that up." My escort is nervous. "You don't want someone to find that." "Why? What would they do with it?" I looked around at the women in yellow CDOC jackets who are out for daily fitness on the sidewalk "track." The air is cold and sweet and the prisoners are yakking like housewives. "They'll use it to power up projectile weapons and tat (tattoo) guns." So I bent down to pick up the battery and was nearly clipped by an inmate out for a roll in her wheelchair. An officer on watch at the edge of grass nods to us. "Another day in Paradise," he says.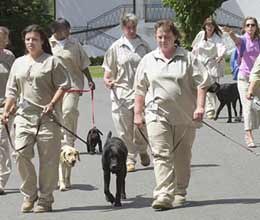 To get inside Denver's Colorado Women's Correctional Facility, I was led down winding concrete halls, and passed through five locked gates; but, there is a difference between me and the women in the yellow coats: I get to leave. They don't have a choice. "The worst thing about prison is being out of control. You can't just go for a walk outside whenever you want. Or go to the bathroom without asking somebody." Stephanie Timothy earned her place behind the barbed wire because she killed her boyfriend. She then shot herself in the head. He died, she didn't, and for her punishment, she "...got forty-eight at nineteen."
Ironically, Inmate 100240 says she is finally content for the first time in her life, eleven years into her sentence. The reason for her happiness is panting at her feet. "The dogs are why I get up in the morning."
Stephanie is an inmate dog trainer with Colorado Correctional Industries' K-9 Companion Program. It's a dog's life. And since she's stuck behind bars, she wouldn't have it any other way.
In the eight years since the corrections' K-9 program started, 5000 tail-waggers have been saved from animal shelters, trained through the prison's boarding and rescue project and gone to new homes. Many of them are trained to care for disabled people with a variety of special needs. Some have been adopted by soldiers with Post Traumatic Stress Syndrome or PTSD.
"Sometimes troops come back and they're not comfortable in crowds." Supervising Officer Debi Stevens says the PTSD dogs are instructed to stand between the veteran and someone who may be coming into his personal space too quickly.
Others retrieve for disabled people, disciplined to bring items like shoes and cans of food, by mouth, to their owners. Countless dogs have become the last best friend to elderly men and women. Stevens believes her project is a win-win-win because it saves lives in triplicate: those of the animals, of the inmates who train them, and of the people who adopt them.
She is a tough, fifty-ish law-woman in full blue uniform, with a gun at her side, and her legs in an enforcer stance, but she is struggling for words. "When you sit down at the end of the day and watch a dog go home with a two year old blind child rubbing his ears saying 'My puppy, my puppy,' you know that's pretty overwhelming, no matter how you cut the mustard." She's crying and I'm starting to forget I'm in a room surrounded by thirty criminals.
The K-9 project is Stevens' baby. It's run like a business, not only for service dogs, but also as a place where exasperated owners can board their naughty friends for obedience training. It costs 450 dollars to have a prison inmate train your dog for a month. That's compared to private companies which do the same thing, but often charge two to three times as much. Stevens' female dog handlers make up to two dollars and fifty cents a day, which comes entirely out of the training and adoption fees. "Be sure you let 'em know...it's not taxpayers' dollars!" she says over her shoulder. And she's off to check out her crew.

The women, in dark green prison outfits and various stages of hair and make-up, are working their dogs on leashes in a circle. Their voices are a soft rumble of commands: "Sit." "Wait." "Go."
Sitting, waiting and going are Wiley, Jake, Tux, Dori, Shelby, Ari, Waldo, Pepper, Loki, Simon and Brutus. Most of the dogs at this facility are relatively big Retriever or Shepard types, except for Tux, a tiny black and white Chihuahua Shitzu mix, who struts around like a general.
There are more dogs being readied for adoption in other prisons. Their pictures on the Correctional Industries website shows a waiting pet for every taste: from flop-eared Aussie-Corgi mixes to purebred Boxers, Lhasa Apso's and Toto dogs. Most of them were brought in from area shelters where they were locked up, unwanted and out of chances. These women know exactly how that feels. "Me and him, we're in the same boat." Suzzette "Bash" Salyer kneels beside Waldo, a reddish mutt, so she can be on level with his nose. "They need to be shown how to live. In return, they show us how to live here."
Of the thirty dogs Bash has trained, she will never forget a Golden Retriever named Tess. She came to the program at the eleventh hour from a puppy mill, skinny and exhausted from having a litter at the age of six months. Thanks to Bash, she left healthy. Stephanie's beginner dog was Charlie. "He was on death row, scheduled to be put to sleep when they brought him in." Stephanie transformed Charlie from a four legged package of bad manners to an obedient pet, and a family ended up adopting him.
Bash, a convicted aggravated robber, pulls a treat from a canvas pouch all of the trainers wear around their waists. Waldo is her fortieth dog. From the sound of things, Bash used to be trouble. She talks about a violent two day crime spree she went on in Colorado Springs as if it was another person who did it. The end of the line came when she stuck a gun in a woman's face, stole her keys and drove off with her car. "I did it because I could. And when you're on meth, you're crazy and you don't think."
She's been locked up for eight years, with two and a half to go. Her dark hair is cropped short to her head, and the flame-like tattoos on her neck were put there to cover up the names of girlfriends. She gave herself some of the tattoos in jail, she says, by grinding pencil lead, mixing it with shampoo, and poking the pewter-colored goo into her skin with a needle. There is a playboy bunny in the center of her throat and spider webs stretch from the outside of her eyes to her temples which symbolize 'being trapped in a web of doing time.'
"I know what people see when they look at my tattoos. They see a gang-banger or a drug addict. A person who robs them. The dogs love me no matter what I look like." Like the other handlers, she spends all of her time with each dog she teaches, taking it to the library, to the chow hall -- they even sleep in the same cell together.
A nine by twelve foot room is pretty small for two adults and two dogs, but that's how the women chosen for the K-9 program must live in order for it to work. Outside of each cell is a hand-made sign with the dog's name on it. I step into a door which has two of these signs: "Brutus" and "Ari." Inside, there are two single beds, two large crates, two doggy beds, a pair of open closets with shelves, religious books, a plastic container of water bowls and Kongs, and two bulletin boards, layered with pictures and notes.
Terrina "T" Flora-Alexander and Jamilyah Nelson follow their dogs into their crowded home. "Get inside." T is giving a command to Ari, a big yellow lab, who slinks into his cage and curls up, his nose poking out of the open door. "AAHHHHhhht" A short growl from Jamilyah is taught as a sign of disapproval, and Brutus sits.
"I"m here for a very long time," she looks down at the gray, cement floor. Her voice is so soft, it's hard to hear what she's saying. "I was charged with murder in the first degree." Prosecutors say Jamilyah stabbed her boyfriend to death. Her own story is a little different from that. She says he was hitting her, they got into a drunken argument, and he fell on top of her on the knife, which happened to be in her hand.
Jamilyah is new to the canine group, new to jail and very new to the image people now have of her as a murderer who doesn't deserve the right to learn a trade, like training an animal. "It hurts. All I can do is show people I'm not the monster the courts said I am." T, the veteran, has been sizing up her freshman roommate. "She's new, so she's still sensitive. She killed that guy, but she wouldn't hurt a fly. She doesn't even want to say 'AAAAaahhht' (to her dog.)"

Of the women I've spoken with, all but one of them have been involved in killing a man, including T, who is appealing her case. Police say she ran a man down and shot him, but T says the guy was a stranger who had broken into their home. "My son says it's okay because I was protecting him from the bad guys." At the time of the killing, T was a security guard and her son now lives with his dad, a former Deputy Sheriff. "I don't think I would have made it in here without the dogs. The love we can't give to our kids, we give to them. I cuddle with my dog. I talk to my dog. I tell him everything, like..." her lower lip is trembling, "...like how much I miss my son."
On T's bulletin board are several pictures of a little boy with strawberry-colored hair, just like hers. Here he is with teeth missing, and here he is a little older, and then again a little older still. A pink construction paper Valentine's card sits next to her coffeepot. On it, her boy has traced his small hand and written a note: "You can always hold my hand now."

"Before you fall off of your chair, I need to tell you that murderers are my best workers!" says Stevens. Killers, she explains, are usually "in" for a one-time crime of passion, and many of the women in K-9 Companions were victims with the wrong guy at the wrong time. She breaks out in a big laugh. "Actually," she says, "Murderers are wonderful people!" Behind her, the dogs and the women are learning life's not so bad when you behave. "AaAARRrrrrt. Down. Good Girl."

Arsonists, sex offenders and child abusers are not welcomed into the program. Handling the dogs provides a slice of life which is considered a privilege, and the women are expected to be straight. That means no sideways glances at the officers, no fights and no dogs on the bed. It's not easy to keep that kind of record in prison. Right now, there are four openings.
Doing time here is doggy time. Just outside the door is the potty pit where the dogs do their business, which starts at 5:30 a.m. Then there's feeding, training, picking up and more training. Several women have described prison as a weird existence. Four solid walls with no way out can magnify feelings of jealousy, rage, sadness, defiance and manipulation. But thirty women and thirty dogs at Colorado Women's Prison have found love by feeding off of each other. Salyer, once a robber with a gun, now carries a plastic bag of Waldo poop. "The best days of my life have been in prison with the dogs." She shrugs and gives a 'who-knew' smile. "You gotta laugh!"
For more information on the Prison Trained Canine Companion Program and for a chance to gander at available dogs, go to: www.coloradoci.com
---
Carol McKinley has been a national reporter for thirteen years, working first for Fox News Channel out of their Denver Bureau, and now for HDNet as a contributor for their news magazine "World Report." In the past few years, she has ventured into print reporting, covering various corrections-related subjects, including prison industries, women's issues and juvenile programs. For HDNet, she has produced documentaries focusing a myriad of subjects, including the current wars, the rise of American militia movements, and polygamy. While with FNC, McKinley covered and broken stories on JonBenet Ramsey, Columbine, the Oklahoma City Bombing and the Elizabeth Smart investigation. She was in Baghdad at the start of the Iraq War. McKinley has also done extensive political reporting. Before she went "national," she was the morning reporter for radio station KOA in Denver, Colorado, where she worked a daily news beat. For the past year, she has done contract work with the Department of Homeland Security teaching first responders how to deal the media in a crisis. The mother of four grown children, she lives in the mountains of Colorado with her husband and her Boston Terrier, Bette Davis.