Top 5 musings on attending corrections academy
My experiences, albeit brief, have been very powerful, impactful and life altering
---
I've received a variety of advice during my time at my correctional academy. I'd like to share what I consider the most important that I've learned thus far; it should be noted that I do not speak on behalf of my employing agency. As always, these are my personal musings on my new career.  
Expectations
As Thoreau said "I went to the woods because I wished to live deliberately, to front only the essential facts of life, and see if I could not learn what it had to teach…", this is an important to me as I soak up all salient training. My experiences, albeit brief, have been very powerful, impactful and life altering. My new profession allows me the honor to work with individuals who dare to work where only a few have gone before.
While the academy is different than a police officer basic academy the focus is to provide the "basics" to corrections career. My correctional academy class has more than 50+ officers, this compares to my police academy which had around a total of fifty. I would dare to say that in the entire criminal justice system correctional professionals are the forgotten warriors, guardians and protector.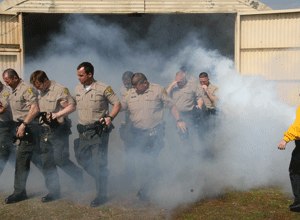 I might attempt to opine on the differences between the two academies but that would be like attempting to discuss the differences between an apple and an orange. The focus of each academy was that of career survival, as well as personal safety.
Courageous Conversations
I would that we as a profession should be having courageous conversations. The conversations could deal with why officers get fired, don't make probation, get criminally charged and other complacency-related issues. As a new recruit, I've been provided with many real scenarios of officers who have faulted in their charge, where their integrity was challenged and they lost.
I was also provided with thought-provoking situation, asking what I would do if I saw a "red flag" or behavior change in a co-worker that might demonstrate they are headed down a slippery slope. Regardless of the years of experience on the job, an all correctional employees are a family. We need to take care of each other, and help each other. Sometimes a fresh pair of eyes provides for the clearest vision.
Punishment
The overall philosophy of corrections has changed from its original inception, back when inmates were given a bible and had 24-hour confinement. I see that the corrections profession is currently having a paradigm shift to allow for success for the inmates. This shift includes change from simply housing inmates to offering treatment and education.
Correctional professionals play a vital role within the institution. They clearly provide security for the institution, offenders, and staff, but also influence many other disciplines.
The notion that a correctional officer's job is not to punish the inmate was new to me. I have an academic and law enforcement understanding of the correctional profession, which is skewed. I had never thought about, but it was very clear to me that this was an important to succeed as a correctional officer working within an institution. This is a concept that I am going to have to keep in mind coming from a law enforcement background with the transition into corrections.
Fellowship
Fellowship I is one of the most important tools in allowing me the greatest chance for my success. I need to have a good relationship with those in my recruit class, and specifically assigned to my institution, followed closely by senior officers, trainers, instructors and supervisors at the department. I hope to gain acceptance and become a trusted partner. In walking the halls of the prison, I hope that I have one tenth of the knowledge of the folks that are teaching us at the academy. I understand that knowledge, training and experience comes with time, and I am willing to take the time to garner those skills.
Questioning
The notion of asking questions has been discussed by every trainer, senior officer, FTO, and sergeant while doing on the job training and in the academy. I literally know about a kernel of information about how to operate as a correctional professional. Let alone a high functioning correctional professional like many of the instructors, senior officers, supervisors, managers and wardens who teach me and educate my academy.
I need to soak up all of the information as possible and hope to retain it. Just like getting somewhere fast in prison, it doesn't happen, things take time and I am willing to take the time. I need to become the most engaged individual, review policies procedures, training manuals, classroom trainings, VHS tapes, and whatever else I can to soak up the knowledge to succeed.
My success will be to have a long rewarding career, I have strategic plan of where I want to be in my career. I am willing and wanting to earn things through hard work, dedication and service. So in looking for a career as a corrections officer during your training, and first years on the job ask questions. The only dumb question is the one not asked. However there are appropriate times to ask questions, when handcuffing a violent inmate maybe not be right time to ask the question.
End of Watch
At the end of each day the most important thing is to go home. I have learned this very quickly, this is more poignant in mind in a correctional setting then in a law enforcement setting. The reasoning behind this is simple correctional institutions are hidden, not really thought about, and rarely discussed. Coming home to family and friends is always the goal, but walking up and out three sally ports, and a handful of secure doors has a different feel than working the streets.