With bizarre tattoo, Miami inmate puts his troubles behind him - literally
Inmate Gilberto Santiesteban Jr. had the details of his criminal case tattooed across his back
---
By C1 Staff
MIAMI – An inmate convicted of running a violent Miami marijuana smuggling ring has taken an interesting path in putting his troubles behind him.
According to the Miami Herald, inmate Gilberto Santiesteban Jr. had the details of his criminal case tattooed across his back.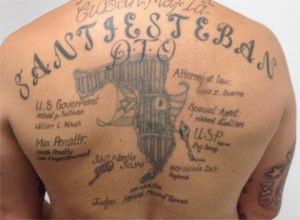 The ink lists his prison term, the names of federal prosecutors, his defense attorney, and even the investigators who arrested him.
"It was really creepy, to be honest," said Miami defense lawyer Luis I. Gurerra, whose name appears on Santiesteban's back.
Santiesteban was part of a family-run operation of marijuana traffickers headed by patriarch and Mariel boatlift refugee Gilberto Sr. The elder Santiesteban and three sons were charged with 13 others in 2012 for operating 20 hydroponic marijuana grow houses.
He pleaded guilty last summer and agreed to spend 30 years in prison. He has been in federal custody since 2012, indicating that his tattoo was created while he was behind bars.