Woman who assisted in NY prison escape in court next week
Joyce Mitchell faces charges of prison contraband promotion and criminal facilitation
---
By C1 Staff
DANNEMORA — The woman who assisted two convicted murderers in their escape from the Clinton Correctional Facility in Dannemora, New York, will face charges next week.
The Times Union reports that Joyce Mitchell has pleaded not guilty to her original charges, including first-degree promotion of prison contraband and fourth-degree criminal facilitation.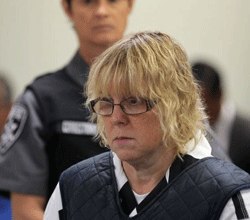 David Sweat and Richard Matt befriended Mitchell while she worked as a tailor at the prison. She helped smuggle tools into the facility to help with the construction of a tunnel that would later allow for Sweat and Matt to escape on June 6.
Mitchell was to accompany the men to Mexico after killing her husband, but backed out at the last moment.
Matt was shot and killed during a manhunt for the two escapees, while Sweat was recaptured.