3 Ohio COs treated for exposure to suspected fentanyl
The exposure apparently coincided with an inmate requiring treatment for a suspected drug overdose and while a second inmate was being evaluated for a suspected overdose
---
By Jim Woods
The Columbus Dispatch
MARION, Ohio — Three correction officers at Marion Correctional Institution were administered Narcan Thursday afternoon after being exposed to suspected fentanyl inside the facility, the Marion Fire Department said.
The three correction officers were in stable condition when they were transported to the OhioHealth Marion General Hospital, said Marion Fire Captain Wade Ralph. "They were all feeling nausea and weakness," he said.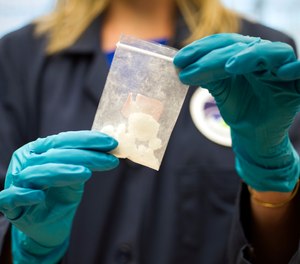 The three were later released from the hospital after being treated, said JoEllen Smith, spokeswoman for the Ohio Department of Rehabilitation and Correction.
The fire department received the call about 4:25 p.m. Ralph didn't know where precisely in the prison the exposure to suspected fentanyl, a potent painkiller, occurred. A statement provided by Smith did not state where the incident occurred.
The exposure apparently coincided with an inmate requiring treatment for a suspected drug overdose and while a second inmate was being evaluated for a suspected overdose by the prison's medical staff, Smith said.
Before being taken to the hospital, the three correction officers were taken to an infirmary in the F dorm, where they were decontaminated in the shower, Ralph said. An area where the officers showered was quarantined.
The incident is at least the second in the state prison system this year where prison staff had to be taken to a hospital after exposure to fentanyl.
On Aug. 29. an inmate and 23 staff members inside the Ross Correctional Institution in Chillicothe were sickened after being exposed to a mixture of heroin and fentanyl, according to the Ross County prosecutor's office. However, there isn't enough evidence to definitively say who brought the drugs into the prison or to prosecute, Ross County Prosecutor Matt Schmidt told the Chillicothe Gazette.
McClatchy-Tribune News Service