Pa. prison book policy draws protests, petitions and possible legal challenges
As part of $15 million worth of new security measures, the DOC is cutting off inmates' access to books programs
---
By Samantha Melamed
The Philadelphia Inquirer
PHILADELPHIA — In the West Philadelphia office of Books Through Bars, dozens of packages of books addressed to prisoners in Pennsylvania state institutions have been sitting for weeks — ever since Aug. 29, when the Department of Corrections announced a temporary statewide lockdown to clamp down on drugs coming into the prisons.
On Monday, the lockdown was lifted — but those books aren't going anywhere.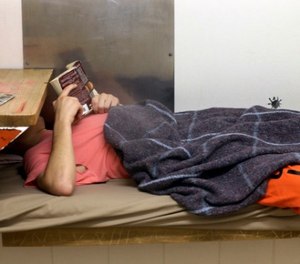 As part of $15 million worth of new security measures being put in place, the DOC is cutting off inmates' access to longstanding volunteer-run free books programs, including Books Through Bars and Pittsburgh-based Book 'Em. Diana Woodside, director of policy, grants and legislative affairs for the prisons, said that while inmates may no longer order books directly, the prisons will instead beef up their libraries, provide access to a list of 8,500 e-books through the vendor GTL, and set up a process for inmates to place book orders through the DOC.
Correction officials around the country have been making similar moves: Just this year, New York, Maryland and the federal Bureau of Prisons all rolled out new policies drastically restricting inmate book purchases — and then quickly rescinded them in response to public pressure and threats of legal action.
Critics see the DOC rules as part of the same "war on books" — and they are hoping to achieve the same reversal here in Pennsylvania. To that end, they've already set up online petitions and planned a day of action for Friday to flood state officials and lawmakers with phone calls. Organizations including the Pennsylvania ACLU and the Pittsburgh-based Abolitionist Law Center that have sued the DOC successfully in the past said they are evaluating the situation.
"We're already starting to get a lot of complaints," said the Abolitionist Law Center's Bret Grote. "It was only a few days into this in which it became clear to me that this is almost certainly going to result in years of protracted litigation, and it's going to become a defining moment in the future of prisons in this state."
Of particular concern, he and others said, is the DOC's new $4 million contract with Florida-based Smart Communications to scan and digitally forward inmate mail. Parents are worried they'll never get a hand-drawn picture from their kids again, while advocates dread the surveillance capabilities. "Converting your inmate postal mail to electronic media allows for a searchable database of inmate mail and opens a whole new field of intelligence for your agency," Smart Communications notes on its website.
Separately, legal mail will be opened and photocopied on site at the prisons, a practice that critics say violates attorney-client privilege.
But many of these concerns will hinge on how the policies are implemented in coming months. Woodside said numerous details — including access to books for correspondence courses, and possible accommodations for donated books — are still under review.
She said she was confident inmates and supporters will be satisfied with the result. "I truly believe this is going to expand access to books," she said.
Still, inmates — who earn between 19 cents and 51 cents per hour in prison jobs — are extremely price-sensitive and worry this is one more way to extract money from them. They pay a premium for things like phone calls and e-mails. (GTL, the e-book provider, already charges $149 for tablets.) Although Woodside said the DOC will seek out reasonable prices, inmates worry it won't pursue discounts as doggedly as they did, and say the loss of free book programs is a blow.
Books Through Bars fulfills requests for about 7,000 packages of books annually, about half of them to the DOC. In-demand volumes include legal dictionaries, medical self-care books and urban fiction.
"Everybody who does this work is doing it in solidarity with incarcerated people who are looking to further their educational goals or satisfy their recreational reading needs," said Keir Neuringer, a member of the Books Through Bars collective. "It's kind of insulting to the thousands of volunteers that we have to suggest that we are doing this to hurt anybody."
Book 'Em sends about 2,700 packages a year. Jodi Lincoln, a member of that group, said the organization is planning advocacy efforts and a possible legal challenge.
"If all of that fails, we will look at other options, including … potentially working within these policies," she said.
Advocates and inmates are deeply skeptical of the rationale for the new policies, which the DOC announced as a response to a series of incidents in which correctional staff took ill after exposure to drugs called synthetic cannabinoids. Several experts in medical toxicology, however, told the Inquirer and Daily News that they believed it unlikely that the staff were sickened by incidental exposure, arguing that a more plausible explanation would be "mass psychogenic illness" — a sort of contagious anxiety response.
Woodside said there have been several instances in which books and magazines contained contraband, including a phony Time magazine filled with nude images and a Bible containing dozens of suboxone strips. The latter was shipped directly from a Barnes & Noble; the DOC assumes a customer tucked in the contraband before bringing it to the register.
"We are seeing a significant increase in contraband coming in through books," Woodside said. "The difference that has occurred over the last year or six months is the drugs coming in are clear liquid that we can't detect. We have intercepted several letters from inmates describing in vivid detail how to get these books into the mail room undetected. … That's why our current policy of having books come from vendors no longer works."
There haven't been reports of contraband via Books Through Bars, though. Robert "Saleem" Holbrook, a former juvenile lifer who now works with the Amistad Law Project, said the free books were a lifeline while he was incarcerated. He even developed a series of correspondence courses — covering art, restorative justice, black social movements and other topics — in conjunction with Pennsylvania Academy of the Fine Arts professor Emily Abendroth.
"To me, depriving someone of access to a book, it's like, 'Wow, where's the humanity in that?"
Recently, he sent course participants questionnaires, asking how the new DOC policies will impact their rehabilitation and their ability to maintain family contacts.
"We're getting ready to challenge these regulations vigorously," he said, "because as it stands right now they're among the most restrictive in the country."
McClatchy-Tribune News Service