Synthetic marijuana most prevalent drug in Fla. correctional facilities
Authorities are seeing an increase in both arrests and deaths related to the difficult-to-detect drugs
---
By Zack Mcdonald
The News Herald, Panama City, Fla.
PANAMA CITY, Fla. — It comes on like a fast-moving fever.
Under the eye of prison surveillance cameras, the inmate can be seen emerging from a bathroom — or some other area out of view — stumbling disoriented, clutching a wall. In an instance, he collapses to the ground in a fit of vomiting.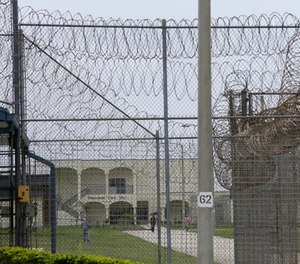 "It's like watching a zombie," said Whit Majors, director of the 14th Judicial Circuit Medical Examiner's Office, who helps investigate inmate deaths.
At that point, the victim of the synthetic marijuana overdose either goes into a seizure, succumbing to cardiac arrest, or becomes unconscious, asphyxiating on his own vomit. The scene has become more frequent in the past year in the correctional institutions in and around Bay County. And it has been facilitated by correctional officers, inmates and visitors alike smuggling in massive quantities of synthetic marijuana doused with various chemicals and even poison.
Amid the fallout, authorities are seeing an increase in both arrests and deaths related to the difficult-to-detect drugs.
***
In some circles, inmates refer to the strain synthetic marijuana entering prisons as "la cucaracha" because of the chemicals — roach spray included — added to the drugs.
More commonly, it is known as "K2" or "Spice," synthetic cannabinoids manufactured to be chemically similar to the THC found in organic marijuana. However, much of the flaky, potpourri-esque substance, at some point, is sprayed with other dangerous chemicals such as cockroach insecticide.
"What they think they are smoking is often not what they are smoking," Majors said.
In the 14th Judicial Circuit, the MEO has confirmed four inmate deaths related directly to K2 in the past year. About 18 more suspected K2-related deaths are pending death investigations over that same period of time, bogged down in the toxicology testing phase. The suspicion is based on surveillance and the death not being attributed to stabbing, hanging or beating.
Majors said the main difficulty in determining whether K2 played a direct role in an inmate's death is because of all the chemicals — such as roach spray, bath salts and even seizure medication — added to the synthetic marijuana. While most K2 is doused with chemicals before entering the prisons, Majors said, inmates sometimes will wait for pest control companies to spray the building so they can soak up the insecticides off the floor.
"We've looked into the roach spray," Majors said. "The pest control companies provided the name of the chemical, and our labs don't have a way to test for it."
Until a little more than a year ago, the MEO's turnaround on inmate death investigations hovered around the standard three months before a cause could be determined, Majors said. Now, there are inmate deaths that are backlogged more than a year.
***
Correctional officers and inmates alike have been caught furthering the rise of synthetic marijuana issues in local prisons.
Contraband itself is nothing new, among officers or inmates. Since the beginning of 2018, reports details officers in this region attempting to smuggle in water bottles full of alcohol, methamphetamine stuffed in feminine products and a gold teeth mold kit. A Panama City Beach man also recently attempted to hide two garbage bags — containing an ounce of marijuana, 44 bundles of cigarettes, 12 cell phones with charges and a gold chain — in a warehouse on the Northwest Florida Reception Center grounds for an undisclosed source to smuggle inside the prison.
However, one of the most prolific busts occurred recently at Gulf Correctional Institute when an officer reportedly was caught smuggling 334 grams — three quarters of a pound — of synthetic marijuana into the prison in her bra and feminine hygiene products at one time, according to Florida Department of Corrections (DOC) officials.
Drugs seized in 2017 byStephanie Nusbaum
Gulf CI Officer Julia Summer Eagerton was arrested May 26 in that case. The DOC Office of Inspector General filed the charges after nine bundles of electrical tape containing K2 reportedly were found on Eagerton as she attempted to enter the prison for her shift.
According to the charges against Eagerton, she had been receiving some form of payment for bringing synthetic marijuana into the facility, but what her compensation consisted of so far has been redacted from official reports.
About a month later, medical crews rushed to the Franklin County jail after six inmates fell ill and began vomiting, hallucinating and convulsing in a cell from smoking a joint of K2 allegedly smuggled in by another inmate.
Vanda Vanessa McElveen, 56, had been brought to the jail after receiving charges of smuggling contraband into the nearby prison, Franklin Correctional Institution. McElveen was strip-searched before entering the jail, but nothing was found. Jail records indicate another female inmate helped remove the K2 from a body cavity, and it then brought to the jail's kitchen and given to some male inmates over breakfast.
Five of the six men were treated and released from a local hospital. The sixth man, who received CPR from jail staff, later was flown by helicopter to be treated in a Tallahassee intensive care unit.
Franklin County Sheriff A.J. Smith said the incident was the first of its kind at the jail. The inmate has recovered and been released from medical care, but in the future, Smith said he will be calling for assistance to help prevent K2 from coming inside.
"We're doing everything we can to keep contraband out," he said. "Our line of work is unpredictable. And sometimes our preparations can't catch everything. But we do the best we can."
Smith recently has asked the Franklin County Commission for x-ray machines to detect contraband that would otherwise be difficult to detect in a strip search.
***
Because of the difficulty in detection, synthetic marijuana is particularly attractive to inmates because it does not show up on standard urinalysis tests. But the underlying incentive for smugglers — whether guards, inmates or visitors — is ultimately economics, according to DOC officials.
"Synthetic drugs are relatively cheap, and inmates see it as a profitable form of contraband," wrote Patrick Manderfield, DOC press secretary. "Recipes are readily available online, and the Department has intercepted homemade versions of it made with household chemicals through inmate mail."
According to the DOC, the rise of synthetic marijuana has been gradual over the past three years, culminating in the recent outbreak of arrests and overdoses. At the moment, though, K2 is by far the most recovered drug in Florida's prisons, according to DOC figures from 2017. Authorities recovered 56,549 grams of the synthetic cannabinoids that year. The only drug to come close to that amount was marijuana, with officers recovering 6,226 grams. Narcotics pills and prescription pills came in the next two spots with 3,167 pills and 2,024 pills being seized, respectively.
Not only is K2 a health risk to inmates, it's also creating new challenges for the prisons.
"The influx of contraband, specifically synthetic and homemade drugs, is a contributing factor to the increase in inmate violence and in-custody deaths," Maderfield wrote.
DOC has been attempting to stave off the flow of all contraband in recent months in an attempt to eliminate organized criminal activity both inside and outside of local prison compounds.
At the start of 2018, the department began examining preliminary causes of death in every in-custody death. Investigators also have employed various methods of intelligence surveillance to combat weapons, drugs, cell phones and any other illegal items being smuggled into facilities. These methods include technology-based solutions such as surveillance cameras, x-ray and body scanning machines, metal detectors and cell phone detectors, as well non-technical methods including cell searches, perimeter property searches and canine interdiction teams. As part of their daily routines, field staff and correctional officers have been tasked with performing improptu searches, DOC officials said.
However, without proper staffing, the issue of synthetic marijuana appears to be an uphill battle. And one of the main struggles persisting for DOC is the inability to find people willing to carry out a sometimes dangerous and often thankless job.
"We have implemented an agency-wide effort to recruit and retain correctional officers statewide," Manderfield added. "This is one of our highest priorities. The inability to properly staff our correctional facilities has a negative impact on all of our operations."
©2018 The News Herald (Panama City, Fla.)