Ariz. detention officer recognized for preventing inmate overdose
Officer Roy Trejo was recognized earlier this month after a fellow officer called in to a local radio show
---
By Sarah Sinning
NOGALES, Ariz. — A detention officer with the Santa Cruz County Sheriff's Office has been recognized for his actions on the job going above and beyong the badge.
During a recent episode of the Tuscon-based Law Matters 1030 radio show, a colleague of Officer Roy Trejo's called in to the show's Above and Beyond the Badge segment, where he shared how Trejo's keen observation and quick response helped him save an inmate's life from a fentanyl overdose.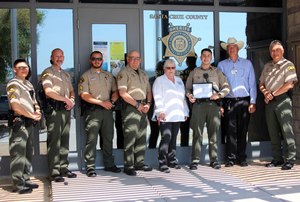 According to Sgt. Sanchez, Trejo observed an inmate at the Santa Cruz County Detention Center acting suspiciously on the morning of May 3. Trejo then noticed the man attempt to pass something to another inmate on his way to the showers, which prompted him to enter his cell and perform a search. It was there that he found 10 M-30 fentanyl pills.
Following the discovery, the inmate was taken to the jail's medical unit for observation, where he defacated a large amount of pills. He then grabbed and ingested about 30 of them, Sanchez said. 
After the inmate disclosed that he still had three packets of pills inside his body, he was rushed to the hospital for treatment. It took 6 doses of Narcan to stabilize the man, Sanchez said. 
Approximately 400 fentanyl pills were recovered from the three remaining packets.

"He is very fortunate to be alive thanks to Officer Trejo," Sanchez told the radio show's director Sherry Harrison.
Sheriff David Hathaway echoed that sentiment, pointing out that "if those pill bags had ruptured, he definitely would've had an overdose death."
The department formally recognized Trejo for his actions on June 17.
"Now that this agency has recognized me," Trejo said, "it feels good. This is family. We're all family."