Smuggled K2 drug turning Pa. inmates violent
Prison officials say substance has contributed to rise in inmate-on-inmate and inmate-on-staff assaults
---
By Steve Esack
The Morning Call 
ALLENTOWN, Pa. — Inmates high on K2, a synthetic form of marijuana, are causing an uptick in assaults and extra safety precautions at some Pennsylvania prisons, Gov. Tom Wolf's administration announced Wednesday.
The protocols come as state police investigate how 18 staffers were sickened by exposure to unknown substances this month at Fayette, Greene and Mercer state prisons. Prison officials believe the toxins are linked to smuggled K2, which the administration says is contributing to a 4 percent increase in inmate-on-inmate and inmate-on-staff assaults in the first half of 2018.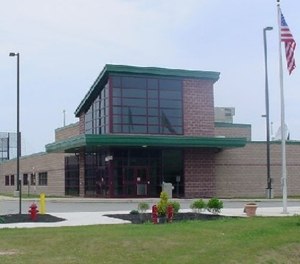 "The safety and security of staff and inmates is paramount to the Department of Corrections," Corrections Secretary John Wetzel said in a statement. "Whether the threat is drugs or staff assaults, the agency is working vigorously to combat these threats on many fronts."
Safety gear, training, scanners and drug-sniffing dogs are being added to facilities to help guards, mail clerks, food workers and anyone else who may come in contact with the smuggled drugs.
The outbreak of violence linked to K2 has, so far, been limited to state prisons in western Pennsylvania and at a county facility in that area, said Tabb Bickell, the state Corrections Department's executive deputy secretary for institutional operations.
In its liquid form, a dose of K2, no bigger than a dime, can be dropped onto a piece of paper and ingested, leading to inmates getting violent and having no memory of the incidents they caused, Bickell said. Staff who have come in contact with the drug reported being light-headed, dizzy and having shortness of breath, he said. Tests also showed some employees exposed to the drug experienced elevated blood pressure, he said.
"It's like every other week a new ingredient is added to this K2," said Bickell, a former guard who worked his way up the ranks. "I can honestly say in my over 30 years of service, just like in communities, I've never seen it as bad as now as it with K2 and synthetics."
It's not just in Pennsylvania.
Synthetic drugs are causing overdose deaths, violence outbreaks and "Walking Dead" zombies in Florida prisons, the Miami Herald newspaper has reported.
Last week, more than 100 people overdosed on the synthetic cannabinoid fubinaca in New Haven, Conn.
The Illinois Department of Public Health has issued a public health warning after getting multiple cases of severe bleeding, including some that resulted in death, among people who used contaminated synthetic cannabinoids, such as K2, also known as "spice" or "fake weed," according to the U.S. Centers for Disease Control and Prevention.
"Other states also have reported similar cases," CDC's website warns. "If you have purchased any of this product … since March 1, 2018, do not use it."
Prisons, like the rest of the nation, have been fighting the opioid epidemic, said Jason Bloom, president of the Pennsylvania corrections officers union. Adding synthetic drugs to the mix makes working in a prison harder, he said.
Like any medication, synthetic drugs cause different reactions in different inmates, but the main reaction has been increased aggression, he said.
"They cause inmates to be even more aggressive and that's something we don't really need by any stretch," Bloom said.
The Corrections Department's plan to combat the drug trade and violence:
Training for how to use protective equipment when conducting searches and processing inmate mail or other items. The training, along with extra equipment, is for corrections officers, maintenance and food service staff who handle inmate clothing or property.
Hazardous material handling training for in-house firefighters.
Buying safety disposal equipment for unknown substances in mailrooms and elsewhere.
Adding body scanners at state prisons and community corrections centers. Coal Township State Prison has body scanners and Huntingdon State Prison will get them soon, state officials said.
Adding three teams of drug-sniffing dogs and buying more anti-overdosing drugs for animals.
Instructing inmates on the dangers of using synthetic drugs.
Body scanners have reduced drug use and overdoses at Wernersville Community Corrections Center, a halfway house, in Berks County, authorities said. The scanners, which cost about $100,000, are tall enough for a person to walk through. A screen displays organs with such clarity that prison guards can see hidden weapons, drugs and undigested food.
Wernersville installed the scanner in January and through June there were no overdoses, compared with 32 overdoses there over the last two years, including one death.
Eventually, Bickell said, every state prison will be outfitted with a body scanner, and the department will keep doing surprise drug sweeps.
"We just did a targeted search with K-9s in the northwest and, as sad as it is, we had great success in finding drugs," Bickell said.
Pennsylvania had 46,768 inmates in two dozen state prisons and one boot camp as of July 31, corrections records show. Of that total, 51 percent were serving time for major crimes: murder, manslaughter, homicide by vehicle, rape, robbery, aggravated assault, burglary, theft/larceny, and arson.
McClatchy-Tribune News Service