NH in-prison cosmetology school offers inmates job skills, second chances
The newly created program is part of a larger trend toward helping inmates overcome barriers to employment upon release
---
By Michael Cousineau
The New Hampshire Union Leader
        
CONCORD, N.H. — Jessica Rivera Padilla washed and styled a woman's long black hair, strategically angling her scissors.
But she wasn't working in a salon in a mall. She was cutting hair in a makeshift shop behind prison walls.
Padilla, who is due to be released from the state women's prison in 2023, was making progress toward her state cosmetology license.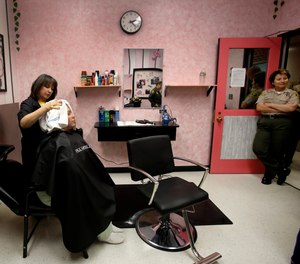 "It means I'm going to have a job when I get out of here," said Padilla, wearing an orange shirt like her fellow inmates. "I'm going to have a career."
The Dover woman is one of the first graduates from the new Granite State School of Cosmetology at the New Hampshire Correctional Facility for Women in Concord. Those who complete the training still must pass a state test to get their license.
Padilla, who pleaded guilty to fatally shooting her boyfriend in 2011, said former inmates can be productive in the workforce after their release.
"We're dying to show society we're able to function out there," Padilla said in a prison interview. "We're part of the solution."
At a time of severe labor shortages in many industries, prison-trained job applicants offer a pool of potential employees ready to report to work with marketable skills. But their hiring can be complicated for employers and applicants alike.
"Ex-convicts and other vulnerable populations have significant barriers to employment, such as stigma, limited work experience, housing and transportation," said Joe Doiron, director of workforce development in the state Office of Work Opportunity.
"Some in-demand occupations are out of reach to ex-convicts because of state and federal laws, so there is a level of case management needed to help this population succeed," he said in an email. "We need to reduce and remove barriers to employment."
By one 2018 analysis, more than 1 in 4 people who had been incarcerated nationwide were unemployed — more than even during the Great Depression.
Some employers see advantages to hiring recently released prisoners.
"I have noticed that — of course it depends on the individual — but many that we have hired in the past are very attentive, very willing to learn new things," said Kevin Foss, vice president of manufacturing at Structures Unlimited in Bow.
"They many times come to us with skills they may have learned in prison, whether it's working with certain tools and measuring certain equipment," Foss said. "Overall, we've always had a great rapport with anyone coming out of the prison system."
People leaving prison often have little money and struggle to secure a job, a place to live and health care coverage, according to Wanda Bertram, communications strategist at the Prison Policy Initiative, a research organization in Northampton, Mass.
"What I've heard from formerly incarcerated friends, it (prison) can follow you in every way your whole life," Bertram said by phone. "Sometimes, people get the chance to explain to a new friend, an employer or a potential landlord the particular circumstances of what happened."
Mom applauds training
Olivia Fitzwater-Duran hopes to be released from the women's prison in October and work at a Nashua-area barber, where she will complete the remaining 300 hours of the 1,500 practical hours of learning and training required to apply to take the state licensing exam.
Learning to cut hair in prison "actually fills my day in a lot," said Fitzgerald-Duran, who is serving time for a non-violent offense. "It gives me something to look forward to."
Her mother, Julie Duran, is glad her daughter is getting the opportunity.
"I'm excited for her because she's wanted to do that for a long time now," said Duran, who lives in Raymond. "It's exciting they actually have that program to start in there."
Before she went to prison, her daughter worked for a year at Burger King.
Duran said the training program increases participants' chances for success once they leave prison "because it's given them something to stand on before they get out."
Duran understands some businesses might be reluctant to hire former prisoners.
"Just my opinion, people don't want to take those risks because it's costly to hire people that are not going to work out," Duran said.
"I know my daughter personally, and a business can benefit from her, especially from customer service," Duran said. "She doesn't have the opportunity because they don't want to take a chance."
In Concord, the separate men's and women's prisons offer training in areas that include business, computers and culinary arts. Building trades and auto mechanics are taught in the men's prison, and women can take a mini-course in either.
Prisoners also can take college-level classes at their own expense.
But education only goes so far, said Bertram, of the Prison Policy Initiative.
"Barriers could include discriminatory hiring practices, licensing requirements that cut whole swaths of people out of certain professions, and underinvestment in the communities most likely to be sending people to prison in the first place," Bertram said.
"If you return to a community where there aren't a lot of jobs to be had and you have a criminal record, you're out of luck no matter how many classes you've taken in prison on resumé building."
Second and third chances
Brad Sargent never took part in any education or training programs while he was incarcerated, though he now recommends it.
"There's plenty of opportunities in there for training and schooling," he said. "They got classes all day long."
Last October, Sargent, 40, left the men's prison in Concord after serving 2 1/2  years for selling drugs. His efforts to find a job didn't bear fruit immediately.
"It's really hard to find work out there when you've got felonies and stuff on your record," said Sargent, sitting outside the RJM House in Manchester, a place for sober living, where he is a resident.
"Lots of people don't want to give people a second chance. It's hard to find companies that will do that," Sargent said. "This is probably my third or fourth chance, but I am embracing it this time."
Sargent joined MaineWorks, which hires people full-time and places them on construction sites. He currently works on a team constructing a commercial building in North Hampton, taking a 45-minute Uber ride back and forth to work.
"It just feels good to get up and have something, a steady job to go to," he said.
MaineWorks hires people for full-time jobs who are in recovery from substance addiction or out of prison or jail, placing them in construction jobs with the hope of them eventually becoming permanent employees.
"All our clients understand what we're recruiting from and looking for with people coming out of prison trying to get their lives back together," said Kyle Wedge, house manager of RJM House and field operations manager at MaineWorks New Hampshire.
Jewett Construction in Fremont has used at least a dozen MaineWorks workers.
"I think some of these people really want to change their lives and do right by themselves and do right by the system supporting them," said Alain LeBlanc, Jewett's vice president/project executive.
Jewett wanted to hire a MaineWorks person full-time, but the man didn't have a driver's license to get to construction jobs around New England, LeBlanc said.
"We are looking at them as potential candidates down the road," he said.
Sargent, who is working at a construction site for Jewett's sister company, New England Metal Buildings, has "been a very good worker so far, and his foreman (Ryan Welch) has been very pleased," LeBlanc said.
With the state's construction industry "booming right now," it is difficult to find qualified people, LeBlanc said.
"You could definitely hire someone but get a warm body. That's just about it," he said.
State as headhunter
Doiron's state Office of Work Opportunity helped a manufacturer find a dozen new workers.
"We identified folks that were coming out of the prison system who had that credential" showing they had the necessary skills and referred them to one manufacturer, Doiron said.
"And guess what?" Doiron recalled during a recent webinar organized by the Business & Industry Association of New Hampshire. "They took all 12 of them, and that helped fill a gap."
Doiron later said confidentiality rules prevented him from identifying the company.
"As our economy is recovering from the pandemic, it needs workers to fuel that recovery. We want anyone who wants to participate in the economy to do so," Doiron said.
The federal case
At the men's federal prison in Berlin, inmates who don't have a verified general education development credential or high school diploma or who are not proficient in English are required to take classes.
"Released prisoners who have achieved their high school diploma or GED and have taken prescribed classes that cover everything from specific occupational job trainings and job skills training are more likely to find jobs that will allow them to sustain a crime-free lifestyle," said Aaron Posthumus, the prison's executive assistant.
"These potential workers can help alleviate workforce shortages, especially in areas that they have completed training," he said by email.
The prison's five main vocational training programs are carpentry, culinary arts, custodial maintenance, electrical and weatherization, all of which offer certifications.
"These certifications can be taken to a potential employer to show which programs they have completed and which skills they have obtained while programming," he said.
Fifty of 822 inmates were getting occupational or apprenticeship training, according to a recent count.
Posthumus said 200 of the inmates were new arrivals who were having their educational needs assessed.
An inside advantage
Visitors entering the women's prison would need to walk through at least five locked doors to reach the cosmetology school, where students work with combs and clippers on wigs and each other.
For inmate Padilla, "You don't remember you're in prison when you're down here in the salon."
Amanda Loiselle of Manchester, one of 115 inmates at the facility, hopes to complete her training by the time she is released in December.
On a recent morning, Loiselle used a curling iron to style a wig sitting on a mannequin head. She had cut hair the previous day.
"This was something I always liked to do," said Loiselle, 33, whose mother was a hairdresser.
As for prisoners learning new skills in prison, Loiselle said: "It gives people a chance to make people better."
     
(c)2021 The New Hampshire Union Leader (Manchester, N.H.)
McClatchy-Tribune News Service