2 inmates escape from Calif. courthouse in 'orchestrated' getaway
The inmates broke free from a bailiff and escaped through an un-monitored side door after picking the locks of their restraints
---
By Tracey Kaplan and Robert Salonga
The Mercury News
PALO ALTO, Calif. — Two inmates escaped from the Palo Alto courthouse Monday in what investigators described as an "orchestrated" scheme that involved multiple getaway vehicles, according to the Santa Clara County Sheriff's Office.
The whereabouts of John Penn Bivins, 47, and 46-year-old Tramel Leon McClough, both of East Palo Alto, were unknown as of Monday afternoon. They apparently broke free from a bailiff who was escorting them about 9:30 a.m. to an elevator of the courthouse at 270 Grant Avenue.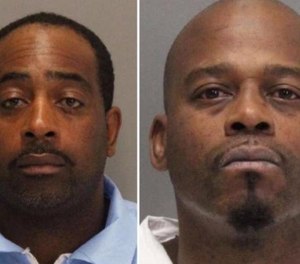 Still in their jail garb, the two escaped through an un-monitored side door after picking the locks of their restraints — including leg irons for McClough and a chain linking him to other inmates for Bivins — with a paper clip or other object modified to serve as a key, sources said.
"It was like something out of 'The A-Team,' " said a source familiar with the investigation, referring to the popular 1980s TV show about fugitive mercenaries with a knack for escaping the law.
In green jail shirts and pants, the two got into a waiting dark-colored late-1980s model Toyota Corolla. But they ditched that car about three blocks away and jumped into a U-Haul cargo truck, Sheriff's Sgt. Reginald Cooks said.
"This was a fairly comprehensive plan," Cooks said. "There was a level of sophistication these inmates had to have to orchestrate this."
Bivins and McClough are being prosecuted in connection with the armed robbery of a Sunnyvale Verizon store in February.
McClough is a potential three-striker facing life in prison for robbery with a gun, and was charged with nine felonies, according to court records. Bivins was facing a double-digit-year prison sentence; he had eight charges, seven of which are felonies including hit-and-run.
They reportedly escaped while being escorted by one sheriff's deputy from a basement holding cell up to the Department 89 courtroom. That apparently required either walking or taking an elevator from the basement to the ground floor, and then walking to a different elevator on the ground floor to take to court. The escape occurred while they were on the ground floor, sources said.  McClough was in waist chains and leg irons. Bivins was chained to other inmates, but both managed to slip out of the restraints.
"They created some sort of distraction. The deputy then gave chase and got on the radio," Cooks said.
There is no indication that the deputy was attacked or overpowered prior to the escape.
Cooks said the inmates ran out a side entrance that led to Birch Street, which crosses Grant Avenue, where the first getaway vehicle was apparently waiting for them. Detectives are collecting and reviewing surveillance videos from businesses near the cars as part of their investigation, as is routine in crime cases.
The two escapees are considered dangerous, the Sheriff's Office said, adding that anyone who spots them should call 911 and not approach them. Anonymous tips about the case can be left at 408-808-4500.
Twenty years ago, a 26-year-old female inmate slipped away from a correctional officer in Palo Alto, eluding authorities for about an hour before being arrested in San Jose.
The March 1997 incident occurred when the woman bolted from a jail van as soon as the correctional officer opened the door to take her and three other inmates into the courthouse.
The woman, Jill Patterson, was picked up near Santa Clara and 8th streets, trying to remove the cuffs. She was facing two charges at the time — petty theft and being under the influence of drugs.
"We're calling for other law-enforcement agencies to help with this," Cooks said.
The Deputy Sheriff's Association, which represents officers including bailiffs in the courthouse, blamed Sheriff Laurie Smith for the current 20 percent vacancy rate, which they say reduced staffing in the courts to dangerous levels. Smith is up for re-election in June for her sixth term against retired Undersheriff John Hirokawa. The escape took place just as about 25 new deputies who just graduated from the academy were sworn in. However, they are still in training.
"For too many years, the courts have been staffed at or below the minimum safe level," said Roger Winslow, vice president of the union.
The security lapse was the latest in a series of black eyes for the Sheriff's Office and county in their operation of the jails. In 2015, a mentally ill inmate was beaten to death by three jail guards who were convicted of second-degree murder earlier this year and are set to be sentenced later this year to 15 years to life in prison.
Last November, four inmates escaped from a second-story dorm on the eve of Thanksgiving after spending days cutting through the bars of a cell window and rappelling to the ground using a rope fashioned out of clothes and bedding.
A former police officer held in a neighboring cell on sex charges told at least three correctional officers that he heard suspicious sounds, according to sources familiar with the investigation.
However, correctional deputies didn't fully investigate that tip. They also failed to remove a makeshift opaque shade covering the cell window — in clear violation of jail policy — that masked the inmates' handiwork, sources said.
In March 2015, Campbell resident Johnell Lee Carter, jailed on child-molestation charges, escaped custody after he attacked a deputy while being transported to a medical appointment near Valley Medical Center and spent a month on the lam. He was apparently helped by his brother who drove him to Reno, from which Carter took a bus to Mississippi, where he was eventually captured.
Coincidentally, Monday's escape happened just hours after a jail-escapee from Los Angeles County was captured in Mountain View. Jason Kohr, an auto-theft convict, walked out of a minimum-security facility Oct. 28 and was found and arrested Sunday night.
©2017 the San Jose Mercury News (San Jose, Calif.)