Authorities: Dallas inmate climbed gate to escape
The inmate was being held on charges of evading arrest, resisting arrest, unlawful carrying of a weapon, burglary of a vehicle, driving while intoxicated and drug possession
---
By Tom Steele
The Dallas Morning News
DALLAS — Authorities are still looking for an inmate who escaped from the Dallas County Jail.
Raymond Aguero, 28, climbed over a gate at the rear dock of the jail's south tower just west of downtown Dallas around 7:15 p.m. Friday, Dallas County Sheriff's Department spokesman Raul Reyna said.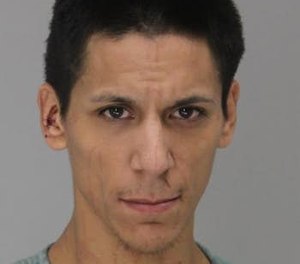 Deputies and Dallas police were searching nearby, and the south tower was briefly on lockdown as authorities performed a headcount.
Aguero was being held on charges of evading arrest, resisting arrest, unlawful carrying of a weapon, burglary of a vehicle, driving while intoxicated and drug possession. His criminal record does not include any violent offenses, Reyna said.
Anyone with information about Aguero's whereabouts is asked to call the sheriff's department at 214-749-8641.
At least two other inmates have escaped from the jail this year.
In July, Daniel Brown hid in a trash compactor for several minutes, then slipped outside. "I couldn't believe how easy it was," he told KTVT-TV (Channel 11) the following day, after he'd been rearrested at a motel.
In April, a handcuffed 21-year-old ran from the bailiff while he was being taken from the courts building to be booked into the jail. He was captured the next morning.
A Dallas Morning News report in late 2016 found that there had been 11 escapes at the facility since 2010. Asked whether the jail had an escape problem, then-Sheriff Lupe Valdez said she was concerned with the numbers. 
"We strive for a record of no escapes," she said. "However, as we strive for perfection, errors will still be made."
McClatchy-Tribune News Service