Iowa county CO fired, charged for helping inmate escape
Michelle Valenti now faces a total of four felony charges and one misdemeanor
---
By Sarah Sinning
FORT DODGE, Iowa — A correctional officer with the Webster County Sheriff's Office was fired and charged with multiple felonies last month after she allegedly helped an inmate escape from the jail, the Des Moines Register reports. 
"He didn't act alone in that. We knew that relatively quickly," Sheriff Luke Fleener said.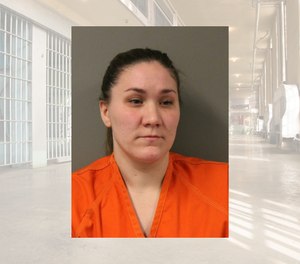 Michelle Valenti, who was working in the jail's control room at the time of Jordan Mefferd's escape on Dec. 12, admitted to detectives that she gave him information about a gap in a security fence and remotely unlocked a door so he could flee.
Mefferd was in custody on burglary and narcotics charges and was apprehended a few hours later. 
A subsequent investigation into the incident resulted in Valenti being charged with four felonies, including:
permitting a prisoner to escape;
introducing contraband, for giving a cigarette lighter to inmates;
introducing electronic contraband, for giving cell phones to inmates;
and furnishing a controlled substance, for bringing marijuana into the jail. 
She also faces an additional misdemeanor charge after admitting to having sex with an inmate.
Valenti had worked as a correctional officer with the department for seven months.
"Michelle Valenti has violated the trust of her former co-workers here at the Sheriff's Office along with the trust that our citizens have in us to carry out our duties on a daily basis in a manner proscribed by law," the sheriff said in a statement.
"As news of these allegations becomes public, please do not let the alleged actions of one individual define the otherwise dedicated and hardworking men and women of the Webster County Sheriff's Office who work diligently each day to fulfill their duties serving the citizens of Webster County," he said.