NC CO released from hospital after deadly escape attempt by inmates
Inmates beat prison employees with hammers and stabbed them with scissors, according to one prison worker
---
By Joe Marusak
The Charlotte Observer
ELIZABETH CITY, N.C. — Correctional Officer George Midgett, hurt in the Oct. 12 failed inmate escape attempt at Pasquotank Correctional Institution in Elizabeth City, was released from a hospital on Tuesday night.
Correctional Officer Wendy Shannon and maintenance worker Geoffrey Howe remain hospitalized, according to the N.C. Department of Public Safety.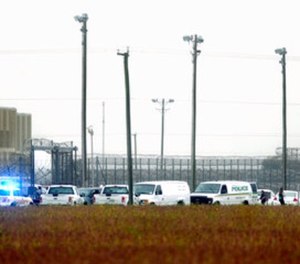 Correctional Officer Justin Smith, 35, and Correction Enterprises manager Veronica Darden, 50, were killed by inmates in the escape attempt. Ten other prison employees were treated and released.
The attempted breakout began around 3 p.m. when inmates set a fire in the prison's sewing plant, where about 30 inmates produce embroidered logo items, safety vests and other items for government agencies and nonprofits, the state Department of Public Safety said.
Several inmates tried to escape as the fire was being extinguished, but they were unsuccessful, officials said.
Inmates beat prison employees with hammers and stabbed them with scissors, according to one prison worker who called 911.
Pasquotank Correctional Institution, which houses about 720 male inmates in close, medium and minimum custody, remains on lockdown.
©2017 The Charlotte Observer (Charlotte, N.C.)