Still no clues on escaped NC inmate found headless
Police are searching for clues in what the sheriff calls one of the most bizarre cases of his career
---
Jeff Hampton
The Virginian-Pilot
EDENTON, N.C. — In the afternoon on Easter Sunday, Kelvin Singleton finished an emotional phone conversation with his young son.
Singleton, 26, was calling from the Chowan County Detention Facility. He wanted to see his son living in Charlotte right away, said his mother, Sheila Jordan of Charlotte.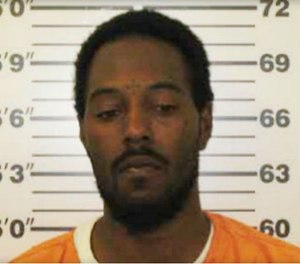 He sharpened a toothbrush into a weapon and forced an unarmed deputy to let him out the door. He was seen running on Oakum Street about a block from the jail, said Chowan County Sheriff Dwayne Goodwin.
Eleven days later, investigators found Singleton's headless body about 10 miles away in a remote field in Bertie County. He was identified by fingerprints.
Police are searching for clues in what Goodwin calls one of the most bizarre cases of his career. Singleton had no known enemies or threats. No one has come forward with any tips. His head has not been found. There were no marks on his body except for the beheading – a violent act that couldn't be carried out from a distance.
"It's very personal to get that close to somebody," Goodwin said.
Equally bizarre is that Singleton's death was just the first in a string of six killings Bertie County has seen in the past two months. None of the cases appear to be connected.
Singleton had a record, including pending charges of assault with a deadly weapon and shooting into a dwelling in Charlotte. He was also convicted of armed robbery in Mecklenburg County in 2007.
But it was a robbery at a tiny convenience store on Granville Street in Edenton that landed him the local jail.
On Jan. 8, police say Singleton entered Pearl's Tobacco Plus with a black BB handgun borrowed from his nephew that looked almost identical to an authentic pistol. The piece of red plastic protruding from the barrel, indicating it was a BB gun, was broken off.
His sister, Natasha Gilliam, worked at the same store but was not on shift at the time. Singleton walked in without a mask and the store owner knew who he was, Goodwin said.
He took $369 and two packs of cigarettes, then forced a clerk outside to the store owner's 2001 Ford Windstar, said Edenton Police Chief Jay Fortenbery. He drove away leaving the clerk unharmed. Police arrested Singleton the next day just a few miles away in Windsor, in Bertie County, as he attempted to gas up the van. Singleton was charged with robbery, attempted kidnapping and larceny of a motor vehicle.
He was awaiting extradition to Mecklenburg County on the more serious charges. Law enforcement officers from Mecklenburg County were expected to come get him on Monday, the day after he escaped, Goodwin said. They had come earlier in the week, but there was a mix-up in the paperwork, he said. Goodwin believed the deputies could have still taken the prisoner despite the mix-up, but they would not, he said.
Court records show Singleton had been disruptive at the Chowan County jail. The facility was at its capacity of 25 prisoners, and his disturbances could cause trouble, Goodwin said.
"This inmate is unmanageable and will not follow instructions," court records say.
He was transferred to a state prison for a while, but was brought back to the county jail for a hearing the week before he escaped. Then, he remained there to await the Mecklenburg officers.
In the Edenton neighborhood along Albemarle Street where Singleton had stayed with his sister, he was known as "Unc" among the local children, Gilliam said. Her brother had no enemies she was aware of, she said.
"He never really bothered anybody," she said.
The Easter Sunday afternoon he escaped, he had spoken to his son on the phone, Jordan said. He was anxious to see him. He planned to return to Charlotte and turn himself in, she said.
He called his mother to wish her a happy Easter and told her he was going to get out and come see his 5-year-old son.
"I told him not to do that," Jordan said. "Once he got something on his mind to do, he did it."
He was good hearted and not violent as a child, she said. She acknowledged he had made bad choices.
Jordan said she has never heard of any case as strange as this. She questions how someone could have come close enough to kill him like that. He would not go down without a fight, she said.
Singleton was the first of six people found killed in rural Bertie County in two months.
On April 14, Shaquan Taylor, 18, was found shot in his home on David Drive in the community of Kelford. No arrests have been made, said Shannon O'Toole, spokesman for the State Bureau of Investigation.
The SBI is assisting the Bertie County Sheriff's Office in the investigations, O'Toole said.
On April 16, Rashaad Malaka Vaughn was found shot dead on Morning Road in Windsor, and another person was found wounded. No arrests have been made, O'Toole said.
On May 29, Tiffiney Renee Williams was found stabbed to death in her home in Aulander. Thurman Wiggins, 56, of the home was charged with felony murder.
On May 31, James Rouson, 63, and his wife Anna, 57, of Sutton Road were found dead in their home. Christopher Lawrence Rouson, 23, was arrested in Oklahoma. The cause of death was not released. Rouson was James Rouson's son and the stepson of Anna Rouson.
The crimes do not appear to be connected, O'Toole said.
Copyright 2016 The Virginian-Pilot