Execution postponed after 2 hour struggle to find vein
---
By Stephen Majors
Associated Press
LUCASVILLE, Ohio — A prison log blames a condemned Ohio inmate's past drug use for problems finding a usable vein during an execution attempt that was stopped Tuesday after an unprecedented two hours.
The log of Tuesday's scheduled execution of Romell Broom indicates that executioners made the observation at 3:11 p.m., more than an hour after first trying to find a vein.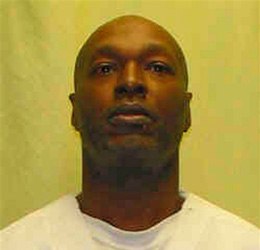 "Medical team having problem maintaining an open vein due to past drug use," said the log reviewed by The Associated Press.
Broom said at one point he was a heavy heroin user, but then said at another time that he wasn't, prisons spokeswoman Julie Walburn said Wednesday.
Broom, 53, has been placed in a cell in the infirmary at the Southern Ohio Correctional Facility in Lucasville where he is on close watch similar to the constant observation of death row inmates in the three days before an execution.
"It was the right place to keep him," Walburn said. "The less we can transport an offender, the better."
Death row inmates are housed in a Youngstown prison and executed in the death chamber at Lucasville. There's no precedent for housing an inmate whose execution didn't work.
Gov. Ted Strickland on Tuesday issued a one-week reprieve to Broom, who spent more than two hours awaiting execution as technicians searched for a vein strong enough to deliver the three-drug lethal injection. The issue arose three years after Ohio revised its lethal injection protocol due to problems with another inmate's IV.
No Ohio governor has issued a similar last-minute reprieve since the state resumed executions in 1999.
The night before his scheduled execution, Broom told his brother over the phone that he was ready to die.
"He is tired of being in prison and having people tell him what to do everyday," according to the prison log.
Richard Dieter, director of the nonprofit Death Penalty Information Center, said he knows of only one inmate who was subjected to more than one execution.
A first attempt to execute Willie Francis in 1946 by electrocution in Louisiana did not work. He was returned to death row for nearly a year while the U.S. Supreme Court considered whether a second electrocution would be unconstitutional.
Dieter said he expects legal challenges will mean Broom will not face execution again in a week's time.
"I think this is going to be challenged, whether under our standards of decency subjecting someone to multiple executions is cruel and unusual ... whether this is in effect experimenting on human beings, whether or not they're sure what works in Ohio," he said.
Broom was sentenced to die for the rape and slaying of a 14-year-old Tryna Middleton after abducting her in Cleveland in September 1984 as she walked home from a Friday night football game with two friends.
Prisons director Terry Collins said the execution team eventually told him they didn't believe Broom's veins would hold if the execution reached the point when the lethal drugs would be administered.
Collins said he contacted the governor at about 4 p.m. to let him know about the difficulties and request a reprieve.
A medical evaluation Monday had determined that veins in Broom's right arm appeared accessible. Collins said that before Broom's next scheduled execution, the team would try to determine how to resolve the problem encountered Tuesday
About an hour into Tuesday's execution effort, a lawyer for Broom, Tim Sweeney, sent an e-mail and fax to Ohio Supreme Court Chief Justice Thomas J. Moyer asking him to end the procedure. Sweeney said continuing the effort would deny Broom his constitutional rights against cruel and unusual punishment and violate Ohio law that requires lethal injection to be quick and painless.
The team had started working on Broom, in a holding cell 17 steps from the execution chamber, at about 2 p.m., four hours after his execution was originally scheduled. That initial delay was due to a final federal appeals request.
After about an hour, Broom tried to help. He turned onto his left side, slid rubber tubing up his left arm, began moving the arm up and down and flexed and closed his fingers. The execution team was able to access a vein, but it collapsed when technicians tried to insert saline fluid.
Broom turned onto his back and covered his face with both hands. His torso heaved up and down and his feet shook. He wiped his eyes and was handed a roll of toilet paper, which he used to wipe his brow.
The team tried to insert shunts through veins in Broom's legs, causing him to appear to grimace. A member of the execution team patted him on the back.
Broom, who did not have any witnesses present, requested that one of his attorneys, Adele Shank, come to the witness area. She asked to speak with Broom but was told that once the process started, it's protocol that attorneys can't have contact with their client.
"I want to know what Romell wants," Shank told a prison official, who told her that he was being cooperative.
"He's always cooperative," responded Shank. "I want to know what he wants me to do."
Collins said the difficulty in the process "absolutely, positively" does not shake his faith in the state's lethal injection procedure.
The problems prompted the American Civil Liberties Union of Ohio to ask state officials to immediately halt executions.
"Ohio's execution system is fundamentally flawed. If the state is going to take a person's life, they must ensure that it is done as humanely as possible," ACLU Ohio counsel Carrie Davis said. "With three botched executions in as many years, it's clear that the state must stop and review the system entirely before another person is put to death."
Florida has also experienced problems with lethal injection.
The state halted executions after the death of Angel Diaz in December 2006 was delayed for 34 minutes because needles were accidentally pushed through his veins, causing the chemicals to go into his muscles instead. Florida resumed executions in 2008 under new procedures.
Problems accessing veins also delayed Ohio executions in 2006 and 2007.
In 2006, the execution of Joseph Clark was delayed for more than an hour after the team failed to properly attach an IV, an incident that led to changes in Ohio's execution process.
The state also had difficulty finding the veins of inmate Christopher Newton, whose May 2007 execution was delayed nearly two hours.
Since Clark, the state's execution rules have allowed team members to take as much time as they need to find the best vein for the IVs that carry the three lethal chemicals.
Ohio has executed 32 men since Wilford Berry in 1999, an execution slightly delayed also because of problems finding a vein.
___
Associated Press Writer Andrew Welsh-Huggins in Columbus contributed to this report.