10 of the world's most unusual prisons
From five-star accommodations to the world's most crowded prison, these facilities run the gamut of strange and unusual
---
By C1 Staff
Prison in the U.S. isn't supposed to be a vacation, but sometimes it can seem so when inmates are offered amenities like video games and TV. But there are other facilities around the world that offer 5-star accommodations; and then there are ones that make Rikers look like summer camp.
Here are ten of the world's most unusual prisons. Add any others that you can think of in the comments.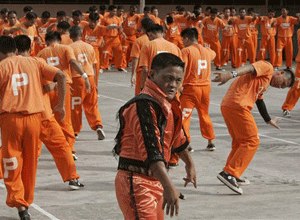 San Pedro Prison, Bolivia
Inmates in this prison actually pay for their cells, which requires them to work inside the jail. This causes the interior of San Pedro Prison to look more like a village; children playing, market stalls, and even restaurants are present. There are no officers and no bars. Cells cost between $1,000 and $1,500, and are typically bought for the duration of an inmate's sentence. Money can purchase "posh" accommodations in better areas of the prison. Poorer inmates share cells.
Cebu Prison, Philippines
You've probably seen their video of Michael Jackson's Thriller; this is due to Cebu Prison's exercise program that consists of inmates dancing in sync. The warden was allegedly inspired by a scene from the "Shawshank Redemption," giving birth to a viral sensation. The prison now does live shows and inmates perform at charities, and are even paid for their work.
Justizzentrum Leoben, Austria
From the exterior, Justizzentrum Leoben looks like an office building. In truth, it's a correctional facility built to hold minimum-security prisoners.  Inmates here wear their own clothes and have access to a communal kitchen, where they can cook their own food. The idea is that "the more normal a life you give them here, the less necessary it is to resocialize them when they leave."
Kresty Prison, Russia
Though this prison is no longer functional, the Kresty Prison on the outskirts of St. Petersburg used to hold three times as many prisoners as it was built to withstand. It was said to always hold around 10,000 inmates when it was supposed to only hold 3,000. Inmates were allotted four square meters of space and only allowed to shower for 15 minutes each week. In 2006, Vladimir Putin relocated the prison to a new facility and the old building was sold at auction.  
Sark Prison, Guernsey
In contrast to Kresty, the Sark Prison is said to be the smallest in the world. It was built in 1856 and can only accommodate two prisoners at most; these days, it's mostly used for overnight stays. If an inmate continues to act up, jailers then send them to a proper jail with corridors and staff.
ADX Florence, Colorado
ADX Florence, or United States Penitentiary Administrative Maximum Facility, is home to the worst felons the country has to offer. Boston bomber Dzhokhar Tsarnaev is currently making his home there while awaiting execution. Inmates are only allowed out of their cells for 9 hours a day and are barely allowed to interact with anyone. Cells are poured concrete, from the walls to the ceiling to the very furniture.
Aranjuez Prison, Spain
Spain claims that this is the only jail designed with families in mind, and we have to think they're right; the idea is for children to bond with their incarcerated parents during their sentence. It also allows the incarcerated parent to learn parenting skills. Disney characters, a playground and a nursery for infants allow young children to not even realize where they are. The prison has 36 cell units for families.
Bastoey Island low security prison, Norway
Norway is home to the world's first eco-friendly prison. It uses solar panels for energy, produces most of its own food, recycles everything and tries to reduce its carbon footprint. The solar panels have cut the facility's power needs by 70 percent. Bastoey has also tapped grants from environmental bodies to help it produce high-quality, organic food. Surplus that isn't cooked in the prison kitchens is sold to other prisons. The prison has also gained international fame for how it treats its prisoners; it resembles a summer camp, with tennis, horseback riding and swimming.
Cereso Chetumal, Mexico
Inmates at this facility settle their issues with an old fashioned boxing match. Perhaps because of that, the prison hasn't seen violence in ten years. The 1,100 inmates inside apparently never want to leave due to the easy life they have behind bars – from great food, cultural activity, arts and crafts that inmates can sell to tourists, to long, uninterrupted naps, it doesn't sound so bad to us either.
Alcatraz, California
In its heyday, the Rock was a small island prison located in the middle of the San Francisco Bay. Between thick concrete walls, a rocky coast and freezing water, it was believed to be the best place to hold hardened criminals who had no hope of rehabilitation. Only three inmates ever successfully escaped, though no one is sure if they survived the frigid Bay waters.