Ala. DOC head: 'No one single thing that's going to solve staffing issues'
ADOC commissioner gave update on state's plans to build two prisons, as well as the agency's severe staffing issue
---
By Mike Cason
al.com
MONTGOMERY, Ala. — Alabama lawmakers and the public heard reports today on the state's prison system, which faces a U.S. Department of Justice lawsuit alleging unconstitutional conditions, a severe staff shortage, and other problems.
The Joint Prison Oversight Committee met at 1:30 p.m. at the Alabama State House.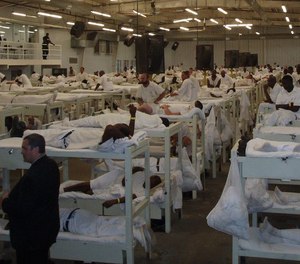 The agenda included updates from Alabama Department of Corrections Commissioner John Hamm, including the latest on the state's plans to build two large prisons for men to replace smaller, aging facilities.
In October 2021, the Legislature approved a $1.3 billion plan to build two 4,000-bed prisons, one in Elmore County and one in Escambia County. Ivey and legislative leaders said the new prisons were an essential part of the solution to problems identified in the DOJ lawsuit over unsafe conditions, filed in December 2020.
Hamm said today the prison in Elmore County, which will include medical and mental health facilities, is on schedule for completion in the first quarter of 2026. Hamm said the pad for the structure is in place. He said rumors that the project has been delayed by sinkholes and work stoppages are not true. The commissioner said the prison and the grounds that are inside the fence will cover about 200 acres, three times the size of the largest current prison, Limestone Correctional Facility.
"Probably at peak construction time there will be about 800 construction workers on this site," Hamm said. "So that should give you just a little idea of how massive this project is."
In April 2022, the governor's office announced the state had hired Caddell Construction Co., to build the Elmore County prison on a $623 million contract.
The Escambia County prison is not as far along. Hamm said the design work is about 40 percent complete. He said the company Goodwyn Mills Cawood is doing the design. There is not yet a general contractor, Hamm said. The commissioner said Thompson Engineering has done some work on the site and that an old grain bin and barn on the property have been demolished and cleaned up.
"So there is some work going on," Hamm said. "But the majority will be once we have a design."
Hamm estimated the Escambia County prison would be completed about six or seven months after the completion of the Elmore County prison.
[RELATED: Former officer: Alabama 'not in control' of state prisons]
Rep. Matt Simpson, R- Daphne, asked Hamm how the new prisons would affect overcrowding. Hamm said that the expectation is that once the new prisons are completed and older ones are closed, there won't be any net gain in the number of prison beds. He said that could change depending on projections of the prison population and decisions made by a repurposing committee that is studying options for the use of some of the state's older prisons.
Hamm said even with no increase in the number of beds, the new prison designs will allow better management of the prison population than the existing prisons, which mostly hold inmates in dorms that have housed as many as several hundred. The new prisons will have more individual cells.
"Just in round numbers, we have about 80 percent dorms now, 20 percent cells," Hamm said. "We're going to have about 70 percent cells and 30 percent dorms. So it will be a little bit easier to control."
Hamm also spoke briefly about the ADOC's staff shortage, which has gotten worse over the last few years despite federal court orders to substantially increase the number of correctional officers. Hamm said he did not want to talk much about staffing because it is an important issue in the lawsuit filed by the DOJ and a separate federal case over mental health care. But he said he agency has been working on hiring and retention since he became commissioner in January 2022.
"Hopefully we're going to see some fruits of those efforts," Hamm said. "And we will be coming to the legislature with some of our ideas and proposals.
"There's no one single thing that's going to solve these staffing issues. The Department of Corrections is not the only state agency that has staffing issues. You can talk to any department head. We all have staffing issues. Private industry has staffing issues. And it's not one thing. So we're trying to cover as many of these areas as we can."
And the committee heard a report on the implementation of an executive order from Gov. Kay Ivey on correctional incentive time, or "good time," a program intended to allow inmates to shorten their sentences by following the rules in prison.
Ivey issued new rules on "good time" in January. The governor said they would bring uniformity to what she said was a patchwork system. Her order defined severe, high-level, medium-level, and low-level violations by inmates and the resulting sanctions, including the loss of good time earned.
Most Alabama inmates are ineligible for "good time." The ADOC said 2,775 of 19,962 inmates in custody, or 13.9 percent, were qualified to earn correctional incentive time, at the time Ivey issued the order.
NEXT: Ala. governor changes 'good time' policy
©2023 Advance Local Media LLC.
Visit al.com.
Distributed by Tribune Content Agency, LLC.
McClatchy-Tribune News Service