Words matter: Why 'special housing' is protective segregation
Segregation serves two purposes when running a safe and secured correctional facility: punitive and protective
---
Rikers Island is in the spotlight once again, but this time it may not be for what most people think.
Over the past few years, Rikers Island has received much media attention as violence has increased inside the facility. Behind the wall, tension between staff and inmates has escalated with frontline correctional staff placed at risk.
The repercussions of eliminating punitive segregation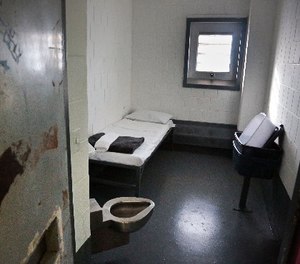 An article in the "New York Post" showed that from 2014 to 2017, the rate of inmate assaults on staff increased by 42 percent from 5.9 per 1,000 inmates in 2014 to 8.4 in 2017. Inmate on inmate incidents also rose from 32.9 per 1,000 in 2014 to 55.2 per 1,000in 2017. 
The rise in jail violence should not come as a surprise. COBA, the union representing the officers on Rikers Island, warned administration that jail violence would increase with the elimination of punitive segregation for inmates 21 and under. Unfortunately, politics got in the way of safety and security as the warning from the union went unheard.
'Special inmates' in 'special housing'
Fast forward to June 20, 2018: Fifteen-year-old Lesandro "Junior" Guzman-Feliz was murdered by members of the Trinitario gang. Guzman-Feliz was dragged by the gang members out of a Bronx Bodega and stabbed in the neck. He was able to run a block to the hospital before succumbing to his injuries.
Three of the gang members – Danel Fernandez, 21: Jose Muniz, 21; and Santiago Rodriguez, 24 – are now isolated from other inmates in a unit at Rikers Island designed to hold 50 inmates. They have been assigned to what some would call "special housing" because they are high-profile inmates with credible threats against their safety and well-being.
Retired Sgt. Russ Hamilton believes high-profile inmates attract extra attention due to either their crime, personal prior fame, or both: "Some inmates, seeking to enhance their own street credibility or level of infamy could target high-profile inmates in order to achieve high-profile status in their own right."
Even though "special housing" has been employed as a term to define the isolated placement of the three above-mentioned gang members, the public should be made aware that the movement into "special housing" is another form of segregation that is often ignored, known as "protective segregation." 
Administration has made a stand against segregation by using the word "punitive" and promoting that as the only purpose segregation serves. Gary York, a retired prison inspector from the Florida Department of Corrections believes that the public is being misled.
"Changing the verbiage of segregation to limit its use and purpose does not change the fact it is needed for much more than just the punitive," said York.
Segregation serves many purposes
Segregation is employed as a tool that is both preventive and reactive. The word "punitive" is only one aspect of segregation. Administration has taken the term "punitive" as a way to pigeonhole segregation to one purpose, which is solely reactive, and then using that to advocate for the elimination of segregation.
As the three gang members await their fate in Rikers Island, let it be known that the same individuals who advocate against segregation have now decided to utilize its "protective" purpose. Don't be fooled by the wording used to define the collective purpose of segregation. Be mindful that segregation serves two essential purposes when running a safe and secured facility: One purpose is to punish (punitive) and the other purpose is to prevent (protect). The latter was clearly made evident the day these three gang members were moved to "special housing," or "protective segregation."