Analyst: Stop giving Calif. COs raises until salary surveys are complete
The Legislature has approved three raises for correctional officers since last receiving a survey on their pay in 2015
---
By Wes Venteicher
The Sacramento Bee
SACRAMENTO, Calif. — An office that reviews state worker pay is urging the California State Legislature to stop giving raises to correctional officers until the Legislature can find out how the officers' pay compares to similar jobs in local government.
State law requires the California Department of Human Resources to provide salary comparisons before the Legislature approves raises, according to a report from the Legislative Analyst's Office. The office evaluates collective bargaining agreements the human resources department reaches with state unions and advises the Legislature on whether to approve them.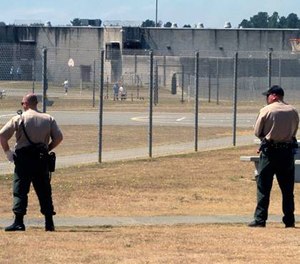 Despite the requirement, the Legislature has approved three pay raises for correctional officers since last receiving a survey on their pay in 2015. That report said officers were making 40 percent more than their local government peers.
As the state enters a new period of economic uncertainty, the salary comparisons are even more important, the report says.
Last year the California Correctional Peace Officers Association negotiated a one-year contract with Gov. Gavin Newsom's administration that included a 3 percent raise.
The analyst's office identified "no evident justification" for the raise, considering correctional officers were paid better than their peers and the California Department of Corrections and Rehabilitation has no trouble recruiting new officers.
Correctional officers make from about $56,000 to about $93,000 per year, plus benefits, according to the corrections department's website.
CalHR completed a salary survey for the officers in 2018, but the correctional officers' union questioned its methodology and the department withheld it from the Legislature, according to the report.
CalHR also denied a Public Records Act request from The Sacramento Bee for the survey results.
The department declined to comment., as did the correctional officers' union.
The department doesn't plan to release the 2018 salary survey this year either, according to the report.
Correctional officers are one of eight groups of state workers with collective bargaining agreements expiring this year. The officers are the only group without recent salary comparison data, according to the report.
CalHR hasn't completed a recent survey comparing state attorneys' pay to their peers, but other recent surveys have established that the attorneys are underpaid, according to the report.
———
©2020 The Sacramento Bee (Sacramento, Calif.)
McClatchy-Tribune News Service