5 principles of managing terrorists in prison
Terrorists are high risk prisoners and may seek to turn others to their cause; here are five ways to monitor and prevent the spread of conversion in your facility
---
Article updated on November 14, 2017
By Gene Atherton & Andjela Jurisic
Prisons are breeding grounds for encouraging criminal behavior. It follows, then, that they are a primary breeding ground for radicalization.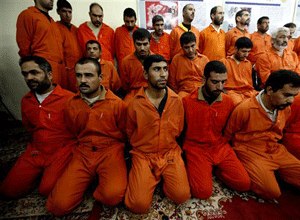 Inmates adopt an extremist belief system that includes using violence to further the cause of their organization. Some see themselves as righteous warriors. Others are weary of their lifestyle, understanding that the radical values are simply empty promises, and they are open to alternative ways of behaving.
For those inmates, prisons can be an effective incubator for change and transformation. The decisions necessary to effectively manage these inmates are complex and require much attention. Leaders need to ensure that prisons are safe and controlled while at the same time allow opportunity for positive changes in attitude and behavior. It is often a difficult balance to achieve, requiring taking some risk and eliminating opportunities for harm.
These five principles of managing terrorists in prison provide a framework for prisons to follow.
1. have Effective management in place 
Poorly managed prisons have a hard time detecting forms and methods of radicalization. They also create opportunities where extremists can act more freely and monopolize discourse about religion, politics and freedom of expression (of their radical views). Those opportunities are minimized through effective management.
2. implement counter-radicalization programs
Correctional facilities need good counter-radicalization programs in place including de-radicalization, disengagement and radicalization prevention expressed through well designed policy.
Religious conversion is not the same as radicalization. Policies must distinguish between legitimate expression of faith and extremist ideologies. Prisons should invest in staff awareness training to ensure that terrorists, like all other prisoners, are treated correctly and fairly at all times, which will make it more difficult for terrorists to rally outside support (see point 4).
Training should include risk-assessments of individual prisoners and focusing on behaviors indicating radicalization. Prison intelligence gathering should include close monitoring of individual terrorist prisoners and focus on the types of relationships they aim to form. Are these offenders singling out more vulnerable inmates looking to get close to them in a grooming style? What is their relationship with high-end criminal offenders?
3. review use of prison chaplaincy imams
In the case of Islamist militant radicalization, prison chaplaincy imams play an important role. The International Centre for the Study of Radicalization has suggested that imams should not be regarded as the panacea for the problems of radicalization in prisons. However, it should be recognized that the influence of imams on Islamist inmates is not to be underestimated. Prisons must ensure extremist imams are not brought in to work in prisons. Some nations insist that imams must complete certification within the country of service.
4. exercise authority in a transparent and accountable way 
Avoid situations in which terrorist prisoners can seek confrontation with the state. For example, through policies that address their freedom of expression or freedom to practice their religion. If terrorist prisoners claim discrimination, mistreatment or torture, this will result in negative media campaigns, protests and even hunger strikes.
The level of public scrutiny of prisons and prison authorities is very high.There is a large number of people who take an interest in politically motivated prisoners, they organize transnational support and observe every action undertaken by the prison authorities. Therefore, prisons must adhere to a strict compliance with documenting and reporting all developments and incidents, and exercise their authority in a transparent and accountable way.
5. practice Dispersal, concentration, separation and isolation
Should terrorist prisoners be held one place (concentration); should they be separated from the general prison population (separation); or should they be isolated from each other (isolation)?
All three approaches are effective in stopping further radicalization and recruitment within the general prison population. At the same time, concentration, separation and isolation provide a focus for public attention and protest.
The U.S. government has opted for a mix of dispersal and concentration, allowing the government to establish clusters of terrorist prisoners within a small number of highly secure prisons. Dispersal has the advantage which helps to avoid clear focal points for public protests and makes it possible for the government to maintain the practice that terrorists are being treated just like any other prisoner.
Prisons all around the world aim to punish, incapacitate and reform. The key is to strike the right balance, especially when it comes to reform. Terrorists are considered high risk and are therefore monitored more closely, and their communications are subject to greater scrutiny.
A government's ambition to reform terrorist inmates is limited. Not only are there constitutional constraints, but expending money on terrorists is a political minefield and largely viewed as futile. In the U.S., no terrorist is likely to be released from domestic prisons any time soon, so probationary or after-care arrangements are not a top priority.
Resources
The International Centre for the Study of Radicalisation and Political Violence, ICSR, Report, Prisons and Terrorism, 2010
Roots of Violent Radicalisation, Examination of Witnesses, House of Commons, United Kingdom, 2010
Andjela Jurisic is an accomplished professional with over 19 years of progressive experience gained in conflict-affected regions all over the world performing a variety of roles on behalf of the NATO, the UN, the Supreme Headquarters Allied Powers Europe (SHAPE), and in programs funded by the US State Department. In her 19 years of experience in the field nearly all her assignments have addressed terrorist organizations. She holds a masters degree in Terrorism and Diplomatic Studies from St. Andrews University in Scotland. She is currently undertaking research on the management of terrorist inmates in the correctional environment.