Aryan Brotherhood gang leader dies in Colo. prison
Barry Byron Mills, the murderous leader of the Aryan Brotherhood prison gang, died this month in federal lockup
---
Associated Press
FLORENCE, Colo. — Barry Byron Mills, the murderous leader of the Aryan Brotherhood prison gang died this month in federal lockup, where he spent much of his life, according to a report Sunday.
Mills, also known by the nickname "Baron," was found dead July 8 in his single-person cell at the supermax prison in Florence, Colorado, according to the Mercury News in San Jose, California. He was 70 and serving multiple life sentences.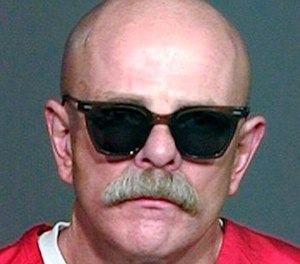 A native of the San Francisco Bay Area, Mills joined the Aryan Brotherhood during a stint at San Quentin prison in the 1970s. He later became leader, aggressively recruiting throughout the state. His grip on the gang stretched nationwide but was strongest in Northern California, where many of its highest-ranking members came from.
"There's no doubt of his influence in the Bay Area. It's fact, not debatable," retired federal prison warden Robert Hood told the newspaper. "I'm not trying to glorify him, but I can tell you this: He had the admiration of a lot of inmates, but he was also feared."
Mills was known for committing brazen, brutal killings — including a savage attempted decapitation while in federal custody in Georgia.
Using couriers, Mills distributed orders from coast to coast, leading to a race war between prison gangs and a notorious protection deal with New York mobster John Gotti.
Mills first caught authorities' attention by planning and ordering a California bank robbery from his cell.
Authorities said Mills' death does not appear suspicious. The results of an autopsy could take weeks.