Fla. man takes 4 hostage while being booked into jail
Eric Stanley pulled a gun on deputies and jail staff, then punched a deputy in the face and forced him to the ground
---
By John Cutter and Cristóbal Reyes
Orlando Sentinel
ORLANDO — A 25-year-old man was charged Sunday with multiple counts of armed kidnapping after pulling a gun on Orange County deputies and jail staff as he was being booked Saturday.
The gun was not found when Eric Jefferson Stanley, of Holiday, was arrested, so he had it on him as he was taken into the jail, Sheriff John Mina said.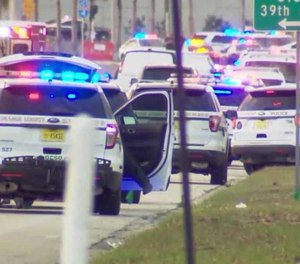 He was later shot by law enforcement officers in the shoulder and surrendered, according to an arrest affidavit. Mina said Stanley's wound was not life threatening and he was taken to Orlando Regional Medical Center.
The arrest report said Stanley was able to free his left hand from the flex cuffs and pull the gun while he was in the triage area of the booking center.
Stanley took four people hostage in the booking area — the deputy who arrested him, a corrections officer, a nurse and another man who was arrested with the suspect, Mina said.
Stanley faces nine felony charges including aggravated assault on a law enforcement officer, aggravated battery and possession of a firearm by a convicted felon, according to online jail records.
At one point, Stanley put the gun on his lap and a deputy tried to grab it, the arrest report said. Stanley punched the deputy in the face, knocked him to the ground, then punched him again with his fists and the gun, according to the report.
That's when shots were fired by law enforcement officers from outside the triage center and one round hit Stanley in the shoulder, the report said.
Deputies negotiated with him for about 90 minutes before he surrendered, Mina said. No one else inside the jail was injured.
Stanley was initially taken into custody earlier Saturday after a traffic stop about 5 p.m. on World Center Drive where drugs were found. The other man arrested with him was not involved in the hostage taking, Mina said.
Mina said there will be an FDLE investigation into the officers who fired, which is standard procedure. The actions of the arresting deputy also would be investigated.
"From the initial investigation it does appear the suspect was able to enter the jail with a firearm," Mina said. "That will be a part of this investigation and certainly a part of our internal investigation."
Louis Quiñones, chief of Orange County Corrections, called the incident "a day that every jail administrator hopes and prays never comes."
"While it's the saddest day of my career, it's also a day I got to watch my staff, the sheriff's office and the Orlando Police Department work together," he said. "And the training we've been through together allowed for this successful outcome," he said.
The situation drew dozens of law enforcement members to the jail near John Young Parkway and Interstate 4. Nearby roads were closed about 7 p.m. By 8:15 p.m., officials said the situation was over.
"There is NO active shooter at the jail," the Sheriff's Office said on its Twitter account at about 8:15 p.m. "The situation has been resolved and there is one person in custody. There is no danger to the public or to anyone in the facility at this time."
———
©2020 The Orlando Sentinel (Orlando, Fla.)
There is NO active shooter at the jail. The situation has been resolved and there is one person in custody. There is no danger to the public or to anyone in the facility at this time.

— Orange County Sheriff's Office (@OrangeCoSheriff) March 22, 2020
McClatchy-Tribune News Service