Phoenix sheriff changes jail rule for immigrants
Sheriff Paul Penzone said he will no longer detain inmates past their release dates to accommodate federal authorities
---
Associated Press
PHOENIX — The new sheriff in metropolitan Phoenix is ending a policy that keeps immigrants locked up in his jails past their release date to give federal authorities extra time to launch deportation proceedings.
Sheriff Paul Penzone announced the new rules at a Friday evening news conference, ending a policy by his controversial predecessor, Joe Arpaio. Penzone said legal issues surrounding the policy left him no choice but to change the rules.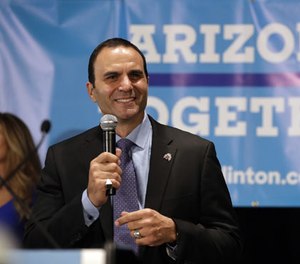 Arpaio became a lightning rod for criticism over his harsh immigration tactics that included his well-publicized sweeps and raids but also his jail policies. Penzone toppled Arpaio in the November election after voters became frustrated over huge legal bills surrounding the longtime lawman.
Penzone says Immigration, Customs and Enforcement officers will remain in his jail, but he will no longer detain inmates past their release dates to accommodate the agency.