Former Mo. COs indicted on charges they assaulted inmates
Both COs had been fired for the assaults that took place last summer
---
By Kim Bell
St. Louis Post-Dispatch
        
CLAYTON, Mo. — A St. Louis County grand jury this week indicted two former jailers on charges they assaulted inmates, prosecutors announced Friday.
The grand jury indicted the two men Wednesday on allegations they committed the assaults while on duty as corrections officers at the St. Louis County Jail.
Justin Mohler, 37, was indicted on a count of third-degree assault, a felony. Kurtis Bromeier, also 37, was indicted on a count of misdemeanor fourth-degree assault.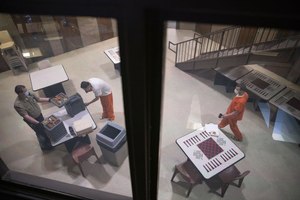 Authorities say Mohler punched an inmate in the face and neck on July 17, and that Bromeier hit a disabled inmate in the head on June 1.
Doug Moore, a spokesman for St. Louis County Executive Sam Page, said the two corrections officers have been fired. Bromeier was hired in 2009 and put on "pre-termination suspension" Aug. 22, Moore said.
Mohler was hired in 2006 and fired Jan 8.
St. Louis County Prosecuting Attorney Wesley Bell said in a news release that corrections officers "have extremely stressful and difficult jobs, and their work is essential and integral to criminal justice and the work prosecutors do."
But he said corrections officers "are not above the law, and the grand jury agreed that the actions of these two men should be charged as criminal assault."
Booking photos for Mohler, of Red Bud, Illinois, and Bromeier, of Barnhart, were not immediately available.
Talmage E. Newton IV, an attorney for Bromeier, said in a statement Friday his client's actions were "legitimate and lawful," and he called the prosecution of his client, a former captain at the jail, a "farce."
Mohler could not be reached for comment. His brother said Mohler had an attorney but declined further comment.
A spokesman for the union that represents corrections officers could not be reached Friday.
Doug Burris, the county's director of Justice Services, said the incidents involving Mohler and Bromeier happened before he was hired eight months ago. It wasn't clear from court papers what led to the alleged assaults, and Burris said he didn't know the details.
"These are very serious charges and it would be horrifying for me as director if an incident like that would have happened under my watch," Burris said. "I came to work here to make this a humane institution."
The documents released by the prosecutor's office identify the inmates only by their initials. Mohler is accused of assaulting an inmate being detained on a charge of second-degree domestic assault. Bromeier is accused of assaulting an inmate being detained on a rape charge in St. Louis County and a warrant from St. Louis for second-degree burglary.
The county jail in Clayton is home to nearly 1,000 detainees, nearly all of whom are awaiting trial on criminal charges but have not been convicted of the offense for which they're being held. Burris said the county jail has 184 corrections officers.
Burris said his focus is for staff to treat inmates with respect and give them opportunities, such as learning skills that will help them get a job one day in the food services industry. In the last eight months, Burris said, there has been a 70% drop in use of force by corrections officers. In the last six months, a corrections officer has not used a Taser once, he said.
"Having not a single use of a Taser since last November is just phenomenal," Burris said in an email. "However, the jail can be a dangerous place."
The indictments were released during a meeting of the St. Louis County Jail advisory board on Friday. The board, a six-member panel formed in mid-2019 after a spate of inmate deaths at the facility, pushed for an outside investigation of the jail in August in part after raising concerns jail officials weren't being transparent about use-of-force incidents. The county has issued a request for proposals for a firm to conduct the review.
After Burris told the board about the indictments, board Chairman Jeff Smith said he was "glad to see that there will be accountability and glad to see that message will continue to be sent to all correctional staff."
Board member the Rev. Philip Duvall commended the indictments and Burris for the reported drop in officers' use of force, including Tasers, despite a sharp rise in jail population and staffing shortages forcing officers to work overtime.
But Duvall said the indictments only came about after some jail staff raised concerns to him and other advocates about use of force, after the incidents were "mishandled" by internal jail supervisors.
"So, yes, we are happy ... that we have some accountability, but without that transparency we wouldn't be reading these (indictments) in the newspaper today."
(c)2021 the St. Louis Post-Dispatch
McClatchy-Tribune News Service