Should prison phone calls be used in court? Sides in Arbery case make arguments for, against
Prosecutors say inmates have no right to privacy; the defense claims otherwise
---
By Larry Hobbs
The Brunswick News
        
BRUNSWICK, Ga. — "No good deed goes unpunished."
This comment was made from behind bars by one of the men charged with murder in the Feb. 23, 2020, killing of Ahmaud Arbery, but it should not be heard by a jury when the case goes to trial, a defense lawyer argued Thursday in Glynn County Superior Court during a second day of pretrial hearings.
Defense attorneys for the three men charged in Arbery's shooting death argued that it is unconstitutional for the prosecution to use recorded jailhouse phone conversations against them in court.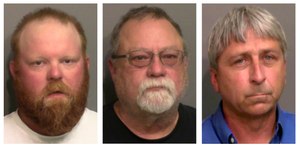 The admissibility of such evidence was among many issues addressed during two days of hearings for the upcoming trial of Travis McMichael, 35, his father, Gregory McMichael, 65, and neighbor William "Roddie" Bryan. The three are charged with felony murder, malice murder, false imprisonment and aggravated assault in the death of Arbery, 25, who was shot dead by Travis McMichael on a public street in the Satilla Shores. Bryan videotaped the fatal end of the conflict, in which Travis McMichael shot the unarmed Arbery three times at close range with buckshot from a .12 gauge as the two struggled for possession of McMichael's shotgun on Holmes Road.
Jury selection for the trial begins Oct. 18.
Prosecuting attorneys with the Cobb County District Attorney's Office likely will present recorded phone conversations made by one or more of the defendants to the jury.
Macon attorney Frank Logue said it is unconstitutional to offer inmates use of a telephone if their recorded phone conversations are then used against them in court.
"We do not contest at all the right to record and monitor all jail calls," Logue said. "What is at issue is when law enforcement requests those jail calls. That's where the defense objects."
Logue and attorney Laura Logue represent Gregory McMichael, the man who made the "good deed" statement during a phone conversation from inside the county jail.
Logue said the prosecution will try to convince the jury that Gregory McMichael was referring to Arbery's death.
"What he meant by 'good deed' was patrolling his neighborhood and trying to protect it," Logue said.
Logue said the use of recorded phone conversations from jail violates 14th amendment rights to due process and equal protection under the law. He added that some murder defendants are released on bond and therefore able to speak freely, leaving those held without bond at a comparative disadvantage.
"My argument is, no matter what's on that phone call, you can't use it," Logue said. "The content doesn't really matter. As long as the state plans to use it, then I object."
Prosecuting attorney Marissa Ollivierre said inmates are not entitled to private phone calls with people on the outside. She noted that Glynn County inmates are given ample forewarning that their conversations may be monitored or recorded. It appears in a prerecording on the phones that are placed in each cell pod and it is also written in the inmates' handbook.
"We would argue that an inmate has no right or expectation of privacy, period," said Olliveirre, an attorney with the Cobb County District Attorney's Office. "There is absolutely no right to talk on the phone while you're in jail."
As for the defendants being held in jail awaiting trail, where they've been since their arrest last year, a judge denied bond because they were deemed a risk, she said.
"We don't believe an equal protection case has been made," she said.
Inmates can have private phone conversations from the jail with their attorneys provided the jail staff is informed in advance, Glynn County Sheriff's deputy Stephanie Britt testified. Numerous state and federal agencies have requested recorded conversations of all three defendants, she said.
Phone privileges can be pulled for disciplinary reasons, she said.
Judge Timothy Walmsley said the defense's argument should be narrowed to specific calls that raise concerns. The defense is expected to provide the judge with lists.
Walmsley's decision will come at a later date.

The three men have been held without bond in the Glynn County Detention Center since their arrests last year.
(c)2021 The Brunswick News (Brunswick, Ga.)
Visit The Brunswick News (Brunswick, Ga.) at www.thebrunswicknews.com
Distributed by Tribune Content Agency, LLC.
 
McClatchy-Tribune News Service